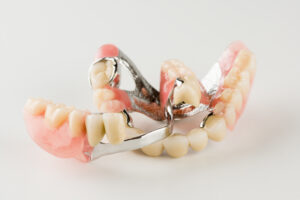 When you have lost several teeth across the arch of your smile, this could be too complex for a dental bridge, but not severe enough to warrant a full denture. In this situation, your Bellaire, TX, dentist could offer a full smile again with a set of custom-made partial dentures.
The Causes of Complicated Tooth Loss
A complicated case of tooth loss could mean several gaps in your smile, spread out far away from each other. This could be too complex for a dental bridge, but you could still have enough natural teeth that extracting them for a full denture isn't necessary. A partial is designed to fill the gaps with lifelike replacement teeth, providing a durable and natural looking prosthetic. Doing so helps limit the complications of tooth loss, including misalignment, an increased risk of tooth decay and gum disease, and a higher risk of TMJ disorder and bruxism. In addition, treatment could avoid the loss of additional teeth and an older appearance as the jawbone loses mass and density due to these gaps.
Creating a Partial Denture
To begin creating a partial denture, our team will take detailed digital images of the smile from multiple angles, and combine these images to create a 3D computer impression. In a dental lab setting, we will use the images and impressions to design and fabricate the finished product. The denture will contain an acrylic base that looks like gum tissue. There will also be ceramic replacement teeth that we shade to blend with your smile seamlessly. We could provide a removable or an implant-secured option.
Removable and Implant-Secured
The removable option is held in place with metal clasps that attach to natural teeth, securing the denture firmly in place. These need to be replaced as the jaw ridge changes shape, lasting about 10 years on average. You need to take them out for cleansing and soaking as well. The implant option is connected to dental implants inserted into your jaw, which fixes it in place so there's no need to remove them. Implants also stimulate the jawbone growth, so your new dentures can last for decades to come, possibly even a lifetime.
If you have any questions about treating tooth loss with custom-made dentures and dental implants, then contact our team today to learn more. There is still time to start your tooth replacement and use your 2022 dental benefits before they expire at the end of the year, so call us soon!
Talk To Your Bellaire, TX Dentist About Dental Prosthetics
Our team wants to help you smile with confidence, even following major tooth loss. If you have questions about treating your smile and keeping it strong, then please reach out to Contemporary Dental And Orthodontics at 713-668-9119.