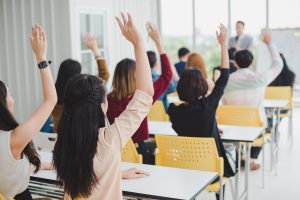 Someone who has just one missing tooth can experience problems with their confidence, their bite function, and their dental health. Whether you have a gap from a single missing tooth or need to address multiple losses, you can gain important benefits from an implant-held restoration. At our Bellaire, TX dentist's office, we have helped many people who have been negatively impacted by tooth loss. We can work with you to plan work to give you back your full smile with prosthetic appliances that are permanently set in place. Over time, this can improve your bite function and raise your confidence, and it also serves as an effective means of preserving the health of your jaw.
How Do Dental Implants Help Patients Affected By Tooth Loss?
Dental implants are used to permanently anchor prosthetic restorations to your jawbone. The arrangement mimics the kind of stability teeth enjoy thanks to their roots. After your procedure is finished, you can marvel at how natural your smile looks, and at how easy it is to trust your restorations to absorb bite support. Also, your biting and chewing functions can do more to support your jaw health, as implants can stimulate the bone to help keep it healthy.
What Makes Someone A Good Candidate For Implant Placement?
Many patients will find that they are good candidates for prosthetic work that includes implant placement and restoration. For those healthy enough to undergo oral surgery, this can lead to vital improvements. After an evaluation, we may identify issues with your oral health that we need to address before we can move forward with treatment plans. If this is the case, we can make the necessary arrangements to improve your candidacy. One common problem is jawbone resorption; losing teeth means losing the stimulation from their roots. That stimulation acts as a message to your body to keep delivering nutrients to the bone.
Can I Use Implants To Address The Loss Of Multiple Teeth?
While a single dental implant can hold a custom crown in place, a series can hold a larger dental bridge, or even a full denture. This will serve to make treatment available to people who have already lost several of their teeth. Making the transition from removable to fixed dentures can make your prosthetic work more comfortable, and it can have real value for your bite function and health.
Talk To Your Bellaire, TX Dentist's Office About Implant Dentistry
Our Bellaire, TX dentist's office provides a comprehensive range of dental services for our patients, including prosthetic treatment. With the right approach to your care, we can provide permanent restorations that are capable of providing valuable bite support. If you would like to find out more, please contact Contemporary Dental And Orthodontics at 713-668-9119.