Annoris Perez
Office Manager
Annoris graduated from the UHCL with her B.S. in criminology in 2021. She has been working as our office manager since 2018. She loves seeing patients walk out of the office happy with their smiles. Outside of the office, she enjoys sightseeing, exploring new places, and spending time with her family.
Patty Nutgrass
Dental Hygienist
Patty received her Associate's Degree in Dental Hygiene from the University of Cincinnati before joining our team in 2009. Since then, she's made it her goal to stay abreast of the latest dental health information to maintain high level of quality in the care she provides her patients. She loves getting to know everyone on a personal level and helping them enjoy the lifelong benefits of good dental health.
Outside of the office, Patty leads a small 2nd-grade youth group at church and volunteers whenever she has free time. She also enjoys reading, sewing, and spending time with her family and friends.
"Worry about nothing. Pray about everything." – Philippians 4: 6-7

Karina V. Rios
Dental Assistant
Karina graduated from the Texas School of Business before joining our practice in 2016. In addition to being a registered dental assistant, she is also a certified basic life support provider. Her calm demeanor helps patients feel more comfortable during their visit, and she loves hearing about their experiences and life stories.
Outside of the office, Karina volunteers with Give Kids a Smile, and she also enjoys traveling, finding new places to eat, and spending time with her children.
"You've gotta dance like there's nobody watching, love like you've never been hurt, sing like nobody's listening, and live like it's heaven on earth." – William W. Purkey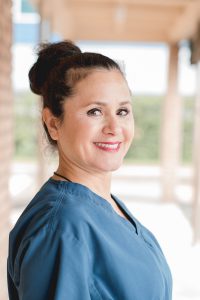 Veronica Lozano
Dental Assistant
Veronica graduated from the San Antonio College of Medical and Dental Assistants and joined our team in May 2011. She is CPR certified and our patients appreciate her energy and positive attitude. In addition to being friendly and informative, Veronica strives to educate our patients about their oral health. She always enjoys seeing the confidence they obtain following treatment.
Veronica is a member of St. Helen's Catholic Church and when not in the office, she enjoys working out, shopping, watching movies, travel, and spending time with her family at Six Flags Fiesta Texas. She is married to her husband Jesse and has a son named Stefan and two step-daughters, Kai and Hali. She also has two grandchildren, Emy and Dallen.
"I can do all things through Christ who strengthens me."

Emma Schiefer
Dental Hygienist
Emma received her Associate's Degree in Biblical Studies from CBS Houston and her Associate's Degree in Dental Hygiene from Perimeter College at Georgia State University. She joined our team in 2012 and has dedicated numerous hours to staying up-to-date on the latest dental health techniques through continuing education. Her commitment to providing patients with high-quality care and to developing long-lasting relationships with every patient is why Emma's favorite part of the job.
Outside of the office, Emma volunteers in a variety of aspects at church, from women's ministry and missions to grief counseling and more. She also enjoys reading, relaxing on the beach, cooking, volunteering, and spending time with her two boys (one of whom is in the military).
"Trust the Lord with all your heart and lean not on your own understanding." – Proverbs 3:5
Schedule a Visit to Meet Our Team
Our team is always happy to welcome new patients! For more information, schedule a consultation by calling Contemporary Dental in Bellaire, TX, today at 713-668-9119. We proudly welcome patients who live in Bellaire, Houston, West University/Southside Place, Southwest Houston, the Galleria area, and all surrounding communities.
Schedule a Visit to Meet Our Team