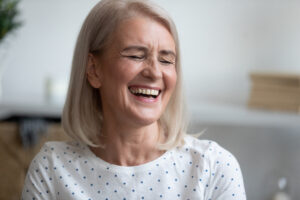 A person with their full smile can take their dental function and appearance for granted, but someone who loses just one tooth can lose their comfort with both. Unfortunately, tooth loss is a problem for many, one that can lead to worsening trouble over time. You can experience increased bite pain and sensitivity because you have to rely on awkward dental movements. You can also have problems as neighboring teeth become loose due to a lack of support, and the loss of jawbone density. Our Bellaire, TX dentist's office is prepared to help you deal with this problem and stop it from worsening. Patients at our practice can meet with an on-site prosthodontist prepared to help them make plans to restore their full smile through implant dentistry!
Stop Letting Tooth Loss Impact Your Daily Life
Tooth loss can take away your confidence in your smile, and it can lead to worsening problems with your dental health and bite function. The longer it takes you to seek out restorative treatment, the more this problem can impact your quality of life. If you have a compromised bite movement, you can have worsening problems with pain and limited joint movement as you develop TMJ disorder. The loss of one tooth can lead to the loss of more, as those next to the absent tooth have less stability.
Planning Your Prosthetic Treatment
Our on-site prosthodontist is here to help patients who are ready to regain their full smiles. Because you can enjoy expert care at the same place where you enjoy general oral health support, your care can begin sooner and prove easier to arrange. Through a careful review, we can confirm that you are a good candidate for implant dentistry, and we can promptly arrange the placement and restoration processes. Once this work is complete, you can show off a full, attractive smile again, and you can enjoy the welcome restoration of important bite support.
Keeping Up With Smile Care After Your Implants Are Placed And Restored
Through the placement and restoration of a dental implant, we can give you back the ability to bite and chew in a way that feels natural, we can preserve the health of your jawbone, and we can give you back your smile! During subsequent dental checkups and cleanings, we can check on the condition of your prosthetic restoration, and we can make sure that it stays in good condition.
Discussing Implant Dentistry With Your Bellaire, TX Dentist
Thanks to implant dentistry, patients who have suffered tooth loss can regain confidence in their oral health, bite function, and appearance! We are happy to help you take on this or another potentially serious dental problem. If you have questions or wish to find out more, please contact Contemporary Dental And Orthodontics at 713-668-9119.