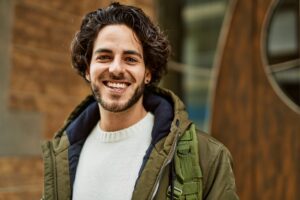 When you think of your smile, what do you envision? For most people, the first thing that comes to mind is their teeth, and this is completely understandable; after all, this is what you show off when you smile and talk. Your teeth need the support of your gum tissue in order to stay healthy, so be sure that you are taking the necessary steps to protect your oral health.
Periodontal disease is the leading cause of tooth decay, and nearly half of all American adults experience this condition. At Contemporary Dental in Bellaire, TX, we can help you to slow and even halt the progression of this troublesome infection through a process known as scaling and root planing. Plaque and tartar can accumulate below your gumline, where even a thorough brushing cannot reach. For a cleaner smile, reach out to our team to learn about your options in keeping your periodontal tissue safe through the removal of these harmful forms of biofilm. We are here to help you retain and maintain your existing gums!
Gingivitis Is The First Step In Periodontal Disease
While your teeth are the most visible component of your smile, your gums also need dedicated care. If you have begun to notice redness and swelling along your gumline, reach out to a dental professional about your options. This may be the first sign of an infection within your periodontal tissue.
This initial phase is known as gingivitis, and it is helpful to stop the progression of your bacterial growth as soon as possible. Speak to your oral health provider about ways that you can improve your hygiene, so that you can correct the issue before it has a chance to become a danger to your smile. If you allow your infection to continue, it can lead to serious complications such as tooth loss.
Gum Disease Is A Prevalent And Dangerous Condition
Nearly half of all people in this country currently experience some form of periodontal disease, and some allow this condition to remain. If you have started to notice blood when you brush or a recession of your gumline, take the time to contact your dentist. This could be a sign that you have an infection within your gums.
We can help you to slow this dangerous concern, starting with the dedicated removal of plaque and tartar from below your gumline. This is achieved through methods known as scaling and root planing. This is an important step in saving your teeth from decay!
Treat Your Gum Disease With Contemporary Dental & Orthodontics
For more information on scaling and root planing, discuss our periodontal services with our helpful team. Give us a call at Contemporary Dental & Orthodontics in Bellaire, TX at (713)668-9119!