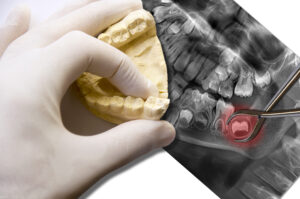 If a tooth is damaged or develops serious decay or infection, then you may find a crown isn't enough to save your tooth. Preventing the spread of trouble could require a gentle tooth extraction. In today's blog, your Bellaire, TX, dentist talks about the situations that call for an extraction, and how we remove a tooth comfortably.
The Situations That Call for Extraction
When does a tooth need to be removed from your smile? For some, we may suggest this when tooth decay or infection becomes too severe to be treated with a crown or root canal. In addition, if a tooth is too damaged for a crown. Likewise, if gum disease loosens a tooth, or one needs to be taken out to make room for orthodontic treatment. We could also extract them to improve bite function and balance. One of the most common reasons is to prevent problems with wisdom teeth. These are up to four new molars that arrive in our late teens and early 20s, and could cause painful impaction, infections, damaged teeth, and misalignment. But we can prevent these complications by taking them out before they even erupt!
A Safe and Comfortable Procedure
Our team always strives to ensure our patients are comfortable and relaxed during their visits. We will provide a local numbing agent to the teeth being removed. We can also offer dental sedation to help you enter a calm and relaxed state. Once you're ready, we will gently remove the teeth with a pair of forceps, and will plan the entire process with detailed digital imaging technology. We then suture the area closed and a friend or family member can bring you home.
Aftercare and Tooth Replacement
You will need to rest for a day or two, and should eat only soft foods and brush and floss gently in that time frame. Avoid smoking, and don't prod the site with your tongue or finger, as a clot needs to form as part of the healing process. We will remove sutures in a follow up visit. If there is a gap left behind in the smile, we can discuss tooth replacement options, such as bridges or even dental implants. We want you to enjoy good oral health and a smile that makes you feel proud!
If you have any questions about tooth extraction and replacement, then contact our team today to learn more. You can also use your dental benefits before they expire at the end of December!
Talk To Your Bellaire, TX Dentist About Restorative Dentistry
We would like to help safeguard your smile with restorative care. If you have questions about improving the health and function of your smile with oral surgery, then please reach out to Contemporary Dental And Orthodontics at 713-668-9119.