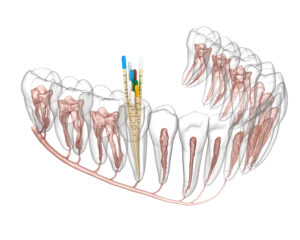 If you have major pain in a tooth, then you may need treatment for an infection. To bring relief and also preserve your tooth with lifelike results, we could offer endodontic treatment. In today's blog, your Bellaire, TX, dentist talks about the benefits of treating major oral health issues with root canal therapy.
The Causes of an Infected Tooth
The pulp at the center of our tooth keeps it healthy and strong, overseeing the flow of blood and nutrients to and from it. But when the pulp encounters bacteria, this could lead to a painful infection and without treatment, the death of the pulp and the loss of your tooth. This encounter could be due to an untreated cavity growing and spreading throughout the tooth, or a serious crack or chip that exposes the inner structure to harmful oral bacteria.
The Dangers of Tooth Loss
Warning signs could include soreness and sensitivity, toothaches, and pain when you bite down and chew. Pain in the jaw, head, and face are often reported, along with a swelling near the tooth or even a discharge from it. When you experience these warning signs, let us know right away so we can diagnose the tooth and offer the most appropriate treatment option. Otherwise, the tooth may need to be treated to prevent the spread of infection, or it could be lost down the road. Missing teeth mean complications with the function of your smile, as well as the health and appearance too.
Root Canal Treatment
A root canal procedure could bring instant relief and save your smile from further trouble, keeping it whole and healthy. The process begins with our team using digital x-rays and intraoral cameras to assess the position and extent of the infection. We then administer a local numbing agent to keep you comfortable, and we also have sedation for anxious patients.
Our team will then open the tooth and remove the tissues from within, end before we clean the interior and add a special restorative filling material. The last step is to cap the tooth with a custom-made crown, one that looks natural and blends with the smile. This also provides a durable chewing surface and protects the tooth form reinfection and decay. If you have any questions about how we diagnose and treat an infection, or about the steps you can take to avoid tooth decay and infected teeth, then contact our team today to learn more.
Talk To Your Bellaire, TX Dentist About Endodontic Treatment
We would like to help you enjoy a whole and comfortable smile with endodontic treatment. If you have questions about saving a tooth from becoming lost or extracted, then please reach out to Contemporary Dental And Orthodontics at 713-668-9119.