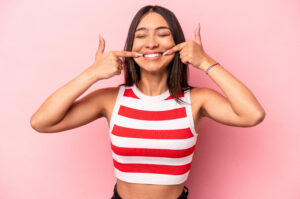 When you have more than just stained teeth, but issues with unsightly gaps and dental damage, you may need a cosmetic restoration. Our team can use custom-made porcelain veneers to instantly transform the appearance of your smile. In today's blog, your Bellaire, TX, dentist talks about placing porcelain veneers.
Your Initial Exam
The first step is an initial consultation. We will talk to you about your smile and hopes for it. Next, we carefully examine your smile with digital x-rays and intraoral cameras. We do this to identify areas of concern, and also to assess the cause and extent of your esthetic concerns. Our team will the decide if one or more veneers are the right choice for your smile. We could also discuss combining them with treatments like professional teeth whitening and bonding/contouring to over a smile makeover in one to two visits.
Creating and Placing Porcelain Veneers
First, we will gently numb your tooth or teeth, and then remove a thin layer of outer enamel from them. Once we do, our team will take digital images of the prepared teeth from multiple angles, combining them to create a 3D impression. In a dental lab, the impression is used to design and craft the completed restoration. We then attach the thin layer of porcelain to the tooth with a powerful bonding agent. This allows it to stay in place for years to come. Every smile is unique, so every restoration we craft and place will be custom-made. We want you to smile with confidence once again.
Cosmetic Improvement
When we attach the restoration, the veneer will instantly alter the shape and color of the tooth in question. They could mask the permanent teeth stains that may not respond to traditional teeth whitening, or lengthen the ones worn down by teeth grinding. We reshape misshapen or malformed teeth, and help repair minor chips and cracks. Placement also closes unsightly gaps between the teeth too.
To keep them bright and ensure the teeth we've attached them to stay healthy and strong, you should brushy twice a day and floss every evening too. Our team will also help by examining the teeth every six months, and also clean the teeth by removing plaque buildup to keep teeth bright and healthy. If you have any questions about how we treat poor oral health and keep smiles bright and healthy, then contact our team today.
Talk To Your Bellaire, TX Dentist About Cosmetic Restorations
Our team is eager to help you enjoy a brighter and more attractive smile, often in only one to two visits. If you have questions about our approach to cosmetic treatment and care, then please reach out to Contemporary Dental And Orthodontics at 713-668-9119.