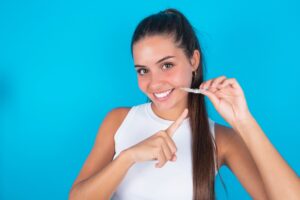 Do you have crooked, crowded, or overlapping teeth? If so, this could mean negative impacts on both the health and beauty of your smile. To correct the issue and restore the function and appearance of your smile, you may need orthodontics. In today's blog, your Bellaire, TX, dentist offers ClearCorrect™ and Invisalign®.
The Benefits of Clear Aligners
First, these are much less noticeable than braces, which makes them a popular choice for our teen and adult patients alike. In addition, they fit comfortably and spare you any gum and cheek irritation. They can be removed before meals, so you don't have to avoid certain food items or change your diet. Being removable also means an easier time brushing and flossing your teeth during treatment, and you can also take out for special occasions. The treatment time is also shorter when compared to braces, with optimal results available in as little as one year in some cases. Plus, fewer office visits too.
Creating Custom Orthodontics
ClearCorrect™ and Invisalign® aligners provide treatment with precision and accuracy, and this is because each set you wear is custom-made specifically for your smile. We start by gathering detailed digital images of your smile, which we combine to create a 3D digital impression, one far more precise than a physical one. In a special lab, these will be used by experts to design and fabricate your aligner set. You then begin wearing a set for 20 to 23 hours a day, depending on our recommendations, and every two weeks move on to the next set in the series. This continues until you obtain optimal results!
Improving Oral Health
Treating misalignment could offer a number of benefits for your smile. Since brushing and flossing thoroughly is much easier, you can now avoid complications like tooth decay and gum disease, and even bad breath and teeth stains. The bite is properly balanced too, sparing the jaw joint strain that could otherwise lead to TMJ disorder or even bruxism (chronic teeth grinding). You also feel more confident in your smile, and never hesitate to show it off! A simple consultation will let us know if you benefit from this system, and will help us choose the right one for your smile.
If you have any questions about how we treat an issue like dental misalignment, or about our cosmetic approach to orthodontic care, then contact our team today to learn more about ClearCorrect™ and Invisalign®.
Talk To Your Bellaire, TX Dentist About Orthodontic Treatment
We would like to help you enjoy optimal oral health and a more attractive smile with our orthodontic treatment options. If you have questions about shifting the position of your teeth, then please reach out to Contemporary Dental And Orthodontics at 713-668-9119.