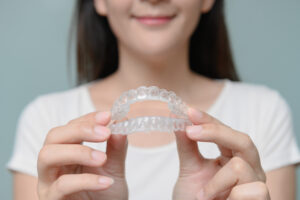 When you have an uneven smile, this could impact far more than just the overall beauty of your smile. To help correct misalignment and offer a healthier smile that looks great too, we may recommend braces or even clear aligners. In today's blog, your Bellaire, TX, dentist talks about our approach to orthodontics.
Metal Braces
These are the most common options, and one we can use to address more severe cases of misalignment. Essentially, we will attach a metal bracket to the front facing side of each of the teeth. Then we will connect a portion of an arch wire to each bracket with a band. As the tension in the arch wire is adjusted, this begins to shift the teeth into proper positions. Usually, this requires about 18 to 24 months. For children, we may recommend early orthodontics like retainers or space maintainers first, before moving on to traditional braces.
Lingual Braces
While this version also uses brackets, wires, and bands to shift the teeth, we can make them less visible by attaching the brackets and wires to the back side of each tooth instead of the front. The orthodontics are then less visible, and this is often preferred by our adult patients concerned about how orthodontics could alter their professional appearance for the next year-and-a-half to two years. We will examine your smile first to see if this is the best option for your smile.
Clear Aligners
With ClearCorrect®, we don't need to employ brackets or wires at all to correct misalignment. Instead, we will use digital technology to create a detailed impression of your smile, and then use it to design a series of aligners in a lab setting. Each set will be made from a clear plastic material, and will fit comfortably. A set is worn daily for 20 to 22 hours on average, and a new set is worn every two weeks. The total treatment time will vary, but usually falls between a year and 18 months. Many teens and adults prefer these because they're not only almost invisible, but they can be removed before meals too.
If you have any questions about the options, we have to correct your alignment and improve the overall health, function, and beauty of your smile, then contact our team today. We want to help you feel confident in your smile, and to avoid the complications of dental misalignment too!
Talk To Your Bellaire, TX Dentist About Correcting Uneven Smiles
We would like to help you enjoy a more attractive smile and better oral health with our orthodontic treatment options. If you have questions about correcting crooked, crowded, or overlapping teeth, then please reach out to Contemporary Dental And Orthodontics at 713-668-9119.