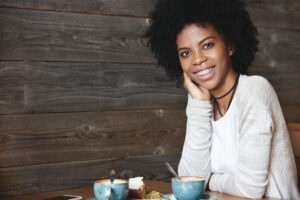 When someone wants to straighten their teeth, can they look into any treatment options beyond the use of metal braces? Traditional orthodontic work with these braces can certainly produce positive results, but there are alternatives to those who want something more discreet. At our Bellaire, TX dental practice, we can provide access to several approaches to care. In addition to metal braces, you can look into treatment with lingual braces, which are placed on the backs of teeth, or we can discuss your candidacy for clear aligners. With the right approach to care, you can look forward to cosmetic benefits as well as changes that can actually improve your oral health!
Orthodontic Treatment Can Offer Cosmetic And Oral Health Benefits
By taking on problems with teeth that are uneven, you can make improvements to your smile that raise your confidence level. You can also take on potential oral health obstacles. People with poor alignment can have a more difficult time maintaining an even bite movement, something that can result in joint pain, stiff movement, and even problems with headaches and pain in the neck and shoulders. It can also be more difficult to maintain good oral hygiene when your teeth overlap. Because you can work with an onsite orthodontic specialist and explore different treatment solutions, you can feel more comfortable beginning the work of straightening teeth that are out of position!
Choosing The Right Treatment Approach
What should you do to fix your uneven smile? Appearance-friendly options are available: You can have lingual braces put in place, which means your appliances are set on the backs of teeth, or you can discuss clear aligner treatment. By choosing clear aligners over treatment with fixed braces, you can have an easier time preserving how you look throughout your adjustment, and you can experience fewer concerns about your appliances causing interference when you eat and clean your teeth. With that said, we can also help you understand the advantages to traditional orthodontic treatment, which can be an important option for those who have more significant problems with malocclusion that need to be addressed.
Can I Address An Alignment Issue Without Orthodontic Work?
For minor spacing problems that create gaps and overlaps, we may be able to provide results through cosmetic dental work. One way to do this is to use porcelain veneers to cover those gaps and overlaps. This approach can lead to results in just two appointments, and it can also help you by taking on concerns about tooth shape, size, and color!
Talk To Your Bellaire, TX Dentist About Orthodontic Treatment
With the right approach to care available to you, it can feel easier to take on problems with teeth spacing! If you are ready to find out more, please reach out to Contemporary Dental And Orthodontics at 713-668-9119.