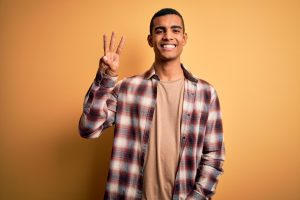 Many people begin orthodontic treatment during their teen years, but it also frequently benefits adults. This can be because they have never addressed problems with malocclusion, or because of shifting that has occurred after past treatment. At our Bellaire, TX dentist's office, you can meet with us to discuss the benefits of beginning a procedure to address gaps, overlaps, and other flaws with your smile alignment. We offer both traditional orthodontic appliances as well as more discreet treatments, such as clear aligners. At the end of your corrective work, you can show off a more confident smile, and you can enjoy meaningful oral health benefits!

1. You Can Enjoy Treatment With Discreet Appliances
One thing you can learn as you ask about orthodontic treatment is how you can fix issues with malocclusion without wearing conspicuous metal braces. Rather than use traditional appliances, we can offer both clear aligners and lingual braces. Lingual braces rely on brackets and wires, but they are placed on the backs of teeth to keep them out of view. Clear aligners are hard to see and also easy to remove. This makes them easier to fit into your daily life, as it preserves your appearance and also lets you eat and clean your teeth without difficulty.
2. Corrective Work Can Lead To Big Smile Changes
By straightening teeth that are out of position, we can help you make changes that significantly improve your smile. A more uniform, symmetrical appearance can improve the overall quality of the way you look. It can also help by correcting noticeable flaws like gaps and overlaps that draw undesired attention. While cosmetic dental treatments can sometimes help to hide these flaws, orthodontic treatment can do so without causing permanent modifications to your tooth structure.
3. Orthodontic Treatment Can Improve Your Bite Function
Is there a problem with your bite function? If there is, it can make you vulnerable to TMJ disorder, a painful problem that causes jaw stiffness and discomfort, issues with facial pain and sensitivity, teeth grinding, and an increase in headaches. Orthodontic services do more than just make a person feel more confident about their appearance. With these services, we are also able to make an even bite movement easier for you to maintain.
Talk To Your Bellaire, TX Dentist About Orthodontic Treatment
Are you someone who would benefit from starting orthodontic treatment? By beginning treatment at our Bellaire, TX dentist's office, you can enjoy access to different treatment types, including options that minimize changes to the way you look. At the end of your corrective work, you can enjoy a more confident and attractive smile, and you can see oral health benefits. To find out more, please contact Contemporary Dental And Orthodontics at 713-668-9119.