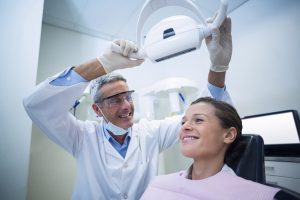 You may be surprised by what your dentist can do for you at their office. At our Bellaire, TX dental practice, we provide a variety of different services. Because we have on-site specialists who can work with you, we can even take on challenges related to tooth loss, periodontal disease, and more. The right technology helps us plan important procedures and work with patients with different oral health concerns. This technology includes digital imaging equipment that helps us measure and evaluate teeth before treatments. It also includes technology we can use to produce lifelike dental crowns in one visit, shortening the time it takes to restore an unhealthy tooth.
The Right Equipment Helps Us Provide Detailed Evaluations For Patients
With the right dental technology, we can perform detailed reviews of your smile and take important measurements before planning a procedure to restore it. To provide quality care for our patients, we rely on equipment to provide digital x-rays, which capture remarkable detail while emitting significantly less radiation. During a review, we can rely on intraoral cameras to closely study areas of your teeth and gums that are harder to access. When appropriate, we can plan procedures and evaluate patients with the assistance of our conebeam CT scanner, which produces remarkably detailed digital molds for further review.
Digitally Designing And Creating Restorations On-Site
Many patients who come in for restorative dental work will need dental crowns put in place. These restorations take care of cavities as well as physical damage. Our practice can have a custom, lifelike dental crown ready for you in just one appointment. How is this possible when other practices typically need at least two visits to supply this restoration? With CEREC technology, we can carefully measure your tooth, make a digital design of the restoration that you will need, and produce the restoration on-site so that it can be put in place.
Our Practice Can Provide Comprehensive Dental Care
We have the means to do more than just evaluate and diagnose potential oral health issues. Our team includes specialists who address problems like malocclusion, periodontal disease, and problems with tooth loss. Rather than send you to a different location to meet someone who can help you with a more difficult problem, we can take on more concerns at our location, making the process more convenient as well as easier to start!
Learn More About The Dental Technology Used At Contemporary Dental And Orthodontics
With the right technology, we can provide important oral health updates, plan procedures, and generally help our patients enjoy access to important services. If you have questions about a specific issue, or if you want to set up a general dental visit, please contact Contemporary Dental And Orthodontics at 713-668-9119.