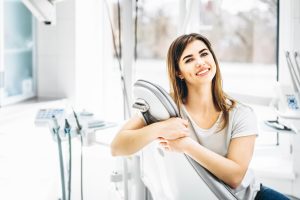 Before we can move forward with a dental procedure, it is important to carefully study and measure a patient's oral structures. This preliminary work is important for the creation of custom appliances that fit comfortably and effectively do the jobs they are intended to do. Our Bellaire, TX dentist's office actually relies on digital imaging technology to capture the images that we need to plan different procedures. Technology like our conebeam CT scanner allows us to capture vivid images and closely study a patient's teeth and oral structures. With the right planning, we can make sure that patients have successful outcomes when they to us for dental or orthodontic treatment!
The Right Imaging Technology Helps Us Closely Study Your Smile
With the right technology, we can perform close studies of patients' smiles. Digital x-rays and intraoral cameras allow us to closely look at your teeth to determine if there are any problems that might require our attention. When small problems are located, we can move forward with restorative dental work that only requires limited changes to your tooth structure. We also use 3D imaging technology when planning procedures that involve custom restorations, or the creation of appliances that need to fit comfortably on teeth.
How Digital Images Help Us Plan Dental Procedures
Before moving forward with a procedure to restore a tooth with a dental crown, or to improve your smile with porcelain veneers, we need careful measurements to determine what sizes your restorations need to be. The right digital images provide these measurements to us, allowing us to plan a procedure that is tailored to you. Once your restorations are created, they can provide support while also preserving the way you look – or, in the case of veneers, improving your appearance.
Digital Imaging And Orthodontic Work
When planning an orthodontic treatment, early evaluations help us understand how malocclusion affects you, and what a procedure should do for you in order to straighten your smile. With digital imaging technology, we can carefully measure teeth so that we can fit them with clear braces that stay secure and avoid unwanted attention. These measurements also allow us to see how your appliances should be designed to best adjust your smile. The end of your adjustment can improve the way you look while also positively changing your bite function and oral health!
Schedule An Appointment At Our Bellaire, TX Dentist's Office!
At our Bellaire, TX dentist's office, we rely on advanced digital imaging technology to help us plan patients' services. With the right information, we can make sure that you feel confident with dental work, and that a procedure delivers the results that you expect. To find out more, please contact Contemporary Dental And Orthodontics at 713-668-9119.