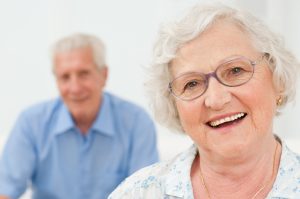 What goals should you set for smile improvement in the new year? No matter how healthy or unhealthy your teeth are at the moment, you should commit to good hygiene habits to avoid future troubles. If you are someone who already has issues like tooth loss, dental pain, or other concerns, your plans can include services to restore your oral health and appearance. Our Bellaire, TX dentist's office provides a range of treatment options, including work to restore missing teeth. After an evaluation, we can discuss what your treatment options look like, and what we can do to help you show off an improved smile for the new year!
We Can Restore Your Incomplete Smile
Missing teeth create cosmetic and oral health issues that are difficult to ignore. Rather than try to work around a gap (or several gaps), talk to your dentist about prosthetic dental work! Our services include the restoration of dental implants put in place to provide long-term stability and bite support. In addition to helping you by restoring your bite, dental implants stimulate the jawbone tissues that surround them. This prevents the deterioration of the bone that can lead to unwelcome cosmetic and oral health changes. We are ready to address more than just individual missing teeth. For those who need or already rely on dentures, we can discuss the benefits of implant-held dentures for your comfort, oral health, and appearance.
Addressing Problems With Malocclusion
Trouble with an uneven or awkwardly aligned smile can affect the way you look as well as your dental health. We can offer treatment through traditional orthodontic appliances, or we can make plans to straighten your teeth with alternatives that are more appearance-friendly. One cosmetically friendly option is to provide lingual braces, which are placed on the backs of teeth. Another is to correct misalignment with clear aligners. A series of aligners made from clear plastic are capable of fixing problems with gaps and overlaps without drawing undesired attention, and without the need to permanently affix braces to your teeth.
Don't Forget To Plan Preventive Appointments For The New Year!
Should your oral health goals for the year focus exclusively on what you want to change, or what you can do to preserve your smile's well-being? Both are important in the long term. Even if you have no active issues that call for restorative dental work, you should commit to practices that keep your teeth and gums safe. As part of your plan to protect yourself, make sure you schedule regular dental exams to keep your smile in good condition!
Talk To Your Bellaire, TX Dentist About Smile Improvements In The New Year
Our Bellaire, TX dentist's office is ready to take care of patients who want to improve or maintain their smile for the new year! If you have questions, or if you wish to learn more about the services that we offer, please call Contemporary Dental And Orthodontics at 713-668-9119.