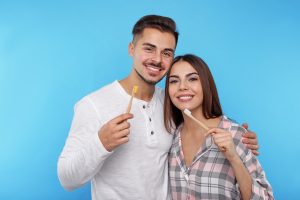 By exercising, dieting, and keeping up with good hygiene practices, you can take care of your body and stay better protected against health issues. By brushing your teeth, flossing, and avoiding sugar, you can do a good job keeping your teeth safe against cavities. What you might not expect is that taking smart care of your smile can also benefit your general health. When you have a good routine in place, and prevent oral health problems from occurring, you can fight the accumulation of oral bacteria and prevent problems that might affect your overall well-being. In addition to helping patients by caring for their teeth during routine dental exams, our Bellaire, TX dentist's office can help people by providing guidance on good oral health habits at home.
A Periodontal Infection Can Cause Problems For Your Overall Health
Problems that affect your gums may be able to impact more than just your oral health. When gingivitis is not addressed properly, an infection can grow more serious, and it can become difficult to manage it as it damages the tissues that support your teeth. One potential consequence of advanced gum disease is tooth loss. You may also become more vulnerable to heart problems, and have a more difficult time controlling other health matters, if you are struggling to control periodontal bacteria.
Symptoms Of Tooth Decay Can Become Difficult To Live With
If a problem with tooth decay grows serious enough, it can be hard to avoid the dentist's office. In addition to pain and sensitivity, a severe cavity may cause a person to develop a fever, and it can cause swelling and infection around the tooth. Properly dealing with a cavity at this point can call for root canal treatment, which removes bacteria that are gathered in the interior of a tooth. Failing to act in time can result in the spread of bacteria out of your tooth and into different areas of your body, as well as the loss of your tooth!
Tips To Help You Stay Out Of Oral Health Trouble
What can you do at home to make sure your smile will remain healthy? If you keep up with good habits on your own time, you are less likely to have troubles that demand a trip to the dentist's office. Make sure you keep up with both brushing and flossing on a daily basis. Remember to also limit your consumption of products that are higher in sugar, or are more acidic, as these can cause cavities and weaken your enamel.
Contemporary Dental And Orthodontics Helps Bellaire, TX Families Protect Their Smiles
Contemporary Dental And Orthodontics helps families in and around Bellaire, TX take care of their teeth. To learn more about the different services that are available to our patients, you can reach us by calling 713-668-9119.