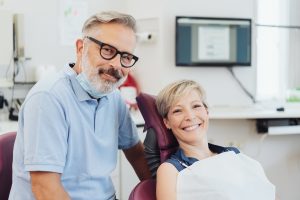 When a person has lost even one tooth, planning the placement of a dental prosthetic can be an important step in giving them back their confident smile, and their optimal dental function. This work can often involve the placement of dental implants. If you are not familiar with implants, and what they can do for your long-term prosthetic support, you can be understandably curious about this. The implant's placement makes it possible to restore a portion of a natural tooth not typically replaced by a prosthetic appliance, the root. An implant can give more support to an artificial tooth, making it more comfortable on a typical day. It can also be important for helping you maintain a healthy jawbone over time. At our Bellaire, TX dental practice, we can provide helpful information about the value of dental implants, and work with you on giving you back your full smile!
Should You Think About Using A Dental Implant To Hold Your Restoration?
A dental implant will not be visible, as it is inserted into your jawbone, where your lost tooth's root was once located. By having an implant put in place, you can count on more practical function from your artificial tooth. This can make it easier for you to bite and chew food, and more comfortable to speak and laugh. Your implant can also keep neighboring teeth more stable, so you have less to worry about when it comes to shifting and other unwanted movements. Your implant is also capable of stimulating your jawbone, and keeping it healthy over the years.
Arranging Dental Work To Restore An Incomplete Smile
Our goal when restoring a person's smile is to help them enjoy better dental health, and feel confident in the way they look. Using an implant to secure a lifelike dental prosthetic can help you feel as though you have your complete smile back. In addition to looking attractive, the implant-held dental crown or dental bridge can stay in place even as you place biting and chewing pressure on it.
Before moving forward with prosthetic dental work, your dentist can carefully study your oral health needs, and offer a custom approach to smile care. You can also be warned of any issues that might need to be addressed before an implant can be placed.
Maintaining Your Oral Health After Prosthetic Dental Work
Keeping up with your oral health after prosthetic dental work is completed will be important. After all, you want to preserve your restored smile, and ensure that you avoid future troubles with your dental well-being. To help you keep up with your oral health needs over time, we can provide ongoing preventive care during regular dental exams and cleanings. At these visits, your dentist will pay special attention to your restoration, and make sure there are no issues that need to be addressed.
Talk To Contemporary Dental And Orthodontics About Restorative Work Involving Dental Implants
At Contemporary Dental And Orthodontics, patients who want to regain their complete set of teeth can be excited to hear about the benefits of prosthetic work involving dental implants! For more information about this treatment, and other services we offer, call our Bellaire, TX dental practice at 713-668-9119.