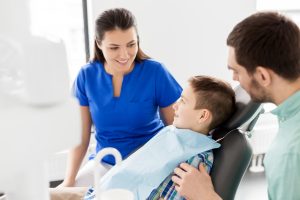 Orthodontic work is often needed to help correct the alignment of a child's teeth. While it may be common for kids to exhibit gaps and overlaps in their developing smile, you may be unsure whether your child might need an adjustment, or when it should take place. At our Bellaire, TX dental practice, we can help you make sure this matter is properly addressed. During pediatric dental exams, we examine a young patient's developing oral structures, and we can alert you if there are signs that they might require treatment. In some cases, we can even recommend early orthodontics, which can limit the problems with their dental alignment over time.
Your Dentist Can Monitor The Way Your Child's Smile Develops
There are several benefits to pediatric dental care that you should know about. Pediatric checkups, like regular dental exams, provide important support in the ongoing endeavor to prevent cavities and gum disease. Your dentist offers instructions and insights to children during their visits, which can help them practice better oral care at home. Consistent visits also create opportunities to monitor the growth and development of a young smile. When there are signs that a child might have gaps or overlaps between teeth that need to be addressed, we can talk to you about treatment options, and recommend when it might be appropriate to start an adjustment.
Starting Orthodontic Work For Kids And Teens
In cases where a child shows signs of serious alignment issues, early orthodontic work can correct problems in advance, and prevent complications. This is not a substitute for an official treatment, but it can ensure that their ultimate orthodontic treatment is easier for the. You and your dentist can discuss when the right time might be for your child to have braces put on. We can also discuss whether you should consider traditional braces, lingual braces, or clear aligners.
Should You Have Your Child's Smile Straightened With Clear Aligners?
How would you like your child to enjoy the benefits of orthodontic work, while also keeping their smile braces-free in yearbook photos and other commemorative pictures? Would your teen prefer to avoid having conspicuous metal braces that cover their smile? Clear aligners can be used in many situations to help people correct problems with dental alignment. If they qualify, your child or teen would wear a series of clear appliances on their teeth, which gradually move their crooked teeth. At the end of this process, they can see results that line up with what they could enjoy from traditional braces, without having to use them!
Talk To Contemporary Dental And Orthodontics About Your Child And Orthodontic Work
Contemporary Dental And Orthodontics is ready to help you make sure your child's teeth are in great shape! We can also help ensure that they have the right orthodontic treatment at the time time. If you have questions, or if you wish to set up an appointment, you can reach our Bellaire, TX dental practice at 713-668-9119.