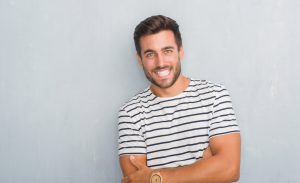 By undergoing a gum contouring treatment at your Bellaire, TX dentist's office, you can correct a range of flaws that have prevented you from showing off your best smile. In fact, you can be surprised at just how beneficial work on your periodontal tissues can be when it comes to improving the way you look. You can lengthen teeth that appear to be on the short side, or that appear to be squat. You can also reduce the prominence of your gum tissues, meaning you can do something about what people often refer to as a "gummy smile." This is one of many cosmetic dental services available at our practice – you can schedule a consultation to find out more about the improvements available to you.
Can Gum Contouring Really Improve Your Smile?
Gum contouring can be recommended as a means of addressing several different concerns. You can have this work done to make your teeth look longer. If your smile is currently affected by teeth that seem to short or stubby, this can lead to a valuable change in your appearance. You can also reduce the look of bulky gums, so that your smile is more balanced.
Looking Into The Benefits Offered By Different Cosmetic Procedures
While many people can see real improvements from a gum contouring treatment, you might be better off taking a different path to smile changes. You could also find that this procedure, while beneficial, is not the only change you want to make. You can follow a gum contouring treatment with a professional whitening treatment, or the placement of porcelain veneers, to further improve the way you look. Veneers can also be effective on their own as a means to improve the size or shape of teeth, and to improve on the symmetry of your smile.
Take Steps To Sustain Your Smile Improvements
Your dentist can help you protect your improved smile during every routine dental checkup. During these visits, you can have your teeth cleaned, and carefully checked for problems. These visits should be part of your overall plans to prevent oral health troubles even if you have not undergone cosmetic dental work.
Talk To Contemporary Dental And Orthodontics About Gum Contouring
Contemporary Dental And Orthodontics is proud to make a variety of oral health and cosmetic services available to those in and around Bellaire, TX. If you feel that your smile is being held back by cosmetic problems, we can talk to you about the benefits of the right procedure, or procedures. We can also help you sustain changes, and protect yourself against threats like tooth decay and gum disease. You can schedule a consultation by reaching Contemporary Dental in Bellaire, TX, today at 713-668-9119.