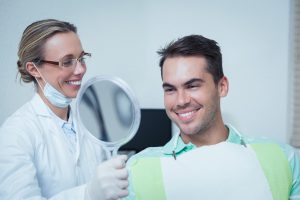 Plaque and tartar are capable of doing real harm to your teeth and gums. When it comes to protecting yourself against the effects of these substances, you need to maintain a smart oral health care strategy. On a daily basis, that means removing oral bacteria consistently by brushing and flossing thoroughly – doing an effective job can stop plaque and tartar from gathering. While you can remove plaque deposits through daily care, tartar will require a professional dental cleaning. Your Bellaire, TX dentist's office is ready to meet you, and provide you with this service during a routine dental exam.
Recognizing The Role Regular Checkups Play In Your Fight To Defend Your Smile
Effective brushing and flossing habits can help you meet your goal of sustaining healthy teeth. When you are effective at removing harmful bacteria before plaque and tartar can build up, you can protect yourself against a possible periodontal infection, and against the damage these bacteria can do to your enamel. While these steps matter, they are not a substitute for regular dental checkups. Thanks to these visits, you can confirm that your teeth and gums are healthy. You can also enjoy a thorough cleaning that helps you take care of plaque and tartar you may have missed.
The Importance Of Professional Cleanings For Fighting Tartar
While you can remove plaque from your teeth on your own, you need professional help to fight tartar once the substance forms. Tartar is actually a hardened plaque – this hardening takes place over time, which is why thorough and consistent dental care is so important. You fight tartar by clearing plaque off of your teeth before the material hardens. Your hygienist fights tartar by removing this substance. Skipping regular checkups puts you at greater risk for cavities for many reasons. One big reason is that without professional visits, you can be stuck with tartar on teeth, making it more likely you will need restorative dental work.
Undergoing A Professional Cleaning To Fight Gum Disease
If you show signs of gum disease, a standard dental cleaning may not be enough to fully address your needs. Your dentist can recommend a periodontal cleaning, called a scaling and root planing, to help you reverse the effects of a periodontal infection. This cleaning concentrates on the spaces below your gums, which are missed during a routine session. Making gum disease a priority when it shows early signs of problems can help you protect yourself against periodontits, a more harmful form of gum disease that can develop over time.
Schedule Your Next Dental Cleaning At Contemporary Dental And Orthodontics
Contemporary Dental And Orthodontics is ready to help patients improve their commitment to preventive dental care by offering thorough checkups. At these preventive appointments, you can enjoy a careful cleaning of your teeth, as well as an inspection to identify any active oral health concerns. You can plan your appointment by calling Contemporary Dental in Bellaire, TX, today at 713-668-9119.