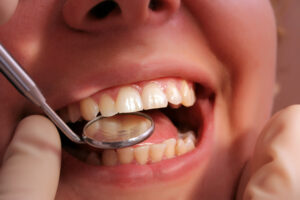 When a cavity forms, this could cause major discomfort and without treatment, could even lead to complications like dental infection. Fortunately, we can offer treatment to prevent worsening symptoms and bring instant relief. In today's blog, your Bellaire, TX, dentist talks about how we treat cavities by placing fillings.
The Cause and Danger of Tooth Decay
Cavities form when harmful oral bacteria reach the sensitive interior structure of your tooth. Typically, the outer enamel prevents this from happening. But a diet high in sugar and starch, combined with poor oral hygiene habits like improper brushing and flossing or infrequent dental cleanings, allows plaque build up to form. Over time, plaque not only causes discoloration and bad breath, but weakens outer enamel to allow cavities to form. Without treatment, this could grow in severity until an infected tooth forms, one that causes worsening pain and the risk of tooth loss.
When You Need a Restoration
If you attend checkups and cleanings with our team every six months, this means we can likely identify cavities in the earliest stages, often before you experience painful symptoms. Otherwise, you won't know you need treatment until you experience tooth sensitivity when you eat or drink or a toothache that doesn't subside. At this stage, the decay is likely advanced and lack of treatment means an infected tooth could be just around the corner. Don't ignore pain in a tooth, let us know right away so we can perform an exam and find out if you need a dental filling.
Dental Fillings
If we find you have a cavity that needs attention, we will first numb the tooth to ensure you're comfortable throughout the treatment process. We then remove all decay and thoroughly clean the tooth as well. For some, we may also etch the outer surfaces to help the filling material stay in place as it cures. We apply this material in several layers. Instead of metal, we employ a composite resin that is metal free, safe or all ages, and can be shaded to blend with the tooth seamlessly. We sculpt the tooth as the material cures beneath a special light. The last step is to polish the tooth for a brighter appearance and smoother finish. In one visit, we treat the decay and ensure lifelike results.
If you have any questions about our natural-looking dental fillings or about diagnosing and treating cavities, then contact our team today to learn more.
Talk To Your Bellaire, TX Dentist About Restorative Dentistry
Our team wants to help offer a lifelike and durable solution for your family. If you have questions about treating issues like tooth decay and infection, then please reach out to Contemporary Dental And Orthodontics at 713-668-9119.