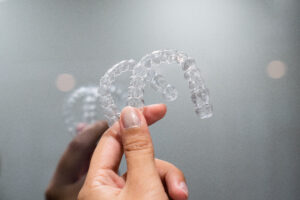 Until you do something about the way your teeth are spaced, you can find it difficult to feel comfortable with your smile. Properly treating problems with gaps and overlaps can lead to welcome cosmetic changes, and your adjustment can also be good for your oral health. If you are interested in straightening your teeth but feel uneasy about using metal braces to do so, you should know that there are alternative treatments available. Our Bellaire, TX dentist's office can recommend that you begin an adjustment with clear aligners to take care of poor smile alignment. Doing so will help you enjoy the benefits of treatment without making it necessary for you to wear a conspicuous appliance for an extended length of time.
Looking Into An Alternative To Metal Braces
The expectation you may have about orthodontic work is that it will require you to wear a fixed and conspicuous bracket-and-wire appliance to see the right adjustments to your smile. This approach to treatment can be effective for many, and it can be needed when more serious problems with malocclusion have to be addressed. However, there are often alternative treatment options for people who want to fix gaps and overlaps. One option is to receive lingual braces, which are kept hidden through placement on back teeth. Another is to proceed with care that relies on clear, removable appliances that are custom-made to guide your teeth into their appropriate positions.
Beginning Treatment With Clear Aligners
Your treatment with personalized clear aligners will begin after your smile is carefully evaluated. The measurements of your teeth and current alignment issues will help us provide appliances that are right for you. When you receive yours, you will begin wearing them on a daily basis, using each aligner for a set period of time before you move to the next one. It is important that they remain in place throughout each day, but you are free to remove them when you need to eat or clean your teeth.
Straightening Your Teeth Can Improve Your Oral Health
By fixing poor teeth spacing, you are able to take on more than just cosmetic flaws. An improved alignment means better bite function, which can lower your risk for TMJ disorder. It also becomes easier to care for your teeth, as you no longer have to put in the work to clean portions that overlap.
Talk To Your Bellaire, TX Dentist About Clear Aligners
Through the use of clear aligners that are made specifically for you, it is possible to take on the frustrating issues created by poor teeth spacing. If you would like to learn more about this and other procedures that we can provide to people in and around the Bellaire, TX area, please reach out to Contemporary Dental And Orthodontics at 713-668-9119.