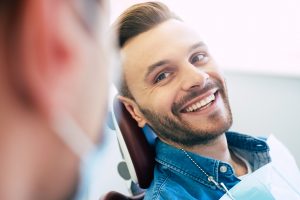 If you need more than just cavity treatment to restore your oral health, will your general dentist be able to help? At our Bellaire, TX dental office, we provide a comprehensive range of services to support our patients. In addition to providing routine treatments, we can act as a "one stop shop" where you can undergo treatment by specialists. Our on-site team can provide periodontal care, orthodontic services, and even dental and maxillofacial prosthetic services. Because of this, we can readily move your treatment forward if you require more specialized support. Of course, it is important to remember that you should also take advantage of general preventive care, as these visits help you avoid trouble in the future!
A "One Stop Shop" Where You Can Receive Many Types Of Treatment
You may assume that when a problem calls for a specialist's attention, it will call for you to see someone at a new practice. As a result, you may worry that your care will not proceed until new appointments are set, more paperwork is filed, and other hurdles are cleared. At Contemporary Dental And Orthodontics, we are prepared to take on many different matters at our office. Because of this, we can promptly bring in one of our on-site specialists to talk with you about services that you might require.
What To Expect When You Need Specialized Care
Depending on what services you need, we can bring in one of our doctors who currently offer specialized services. For both orthodontic treatment and periodontal services, Dr. Fabia Younus can step in and provide treatment. Dr. Sudarat Kiam-Amnuay provides both dental and maxillofacial prosthetic treatments. Because they work alongside your general dentists, they can quickly step in and see you to discuss work to address the issues that you face. When you need these services, we can move you forward with care and see to it you have the attention you require without a frustrating wait.
Staying Consistent With General Dental Services
Remember to keep up with your general dental services! If you want to stay healthy, your regular checkups and cleanings help you avoid problems that can cause complications over time. Regular checkups make you less likely to suffer from periodontal disease that leads to tooth loss. They also prevent complications from tooth decay that can become painful.
Schedule Your Dental Care At Our Bellaire, TX Dentist's Office!
Through both general and specialized care, our Bellaire, TX dentist's office can help you avoid difficulties that affect the health and appearance of your smile. If you want to learn more about the different services that we can provide, or if you are interested in scheduling a routine oral health exam, please contact Contemporary Dental And Orthodontics at 713-668-9119.