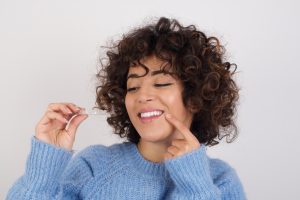 As exciting as it may be to imaging life after orthodontic treatment, some patients are uncomfortable with the idea of committing to wearing metal braces for a fixed period of time. Fortunately, this is not the only treatment option available to people who want to do something about frustrating smile gaps and overlaps. At our Bellaire, TX dental office, we can evaluate your smile alignment and see if you are a good candidate for clear braces. Wearing Invisalign or ClearCorrect braces will help you correct problems with spacing that have negatively affected your smile, and they can even address the issues with malocclusion that lead to oral health problems.
What Makes Treatment With Clear Aligners Appealing?
Clear aligners make your treatment more discreet, as they are hard to see when you wear them. These aligners also make your adjustment time more convenient by giving you appliances that you can take out on your own. In other words, you will not have to rely on treatment with braces that are permanently placed for the entire treatment time, and you will not have to concern yourself with how you look during your adjustment! This can be particularly appealing to adult patients, as many can feel that braces might interfere with a professional appearance.
Your Daily Experience With Invisalign Or ClearCorrect Appliances
While you can take Invisalign or ClearCorrect appliances out to eat, and to clean your teeth, you should limit your time with them out of place. Keeping them on throughout the day will help you stay on track to complete your adjustment at the expected time. Because they can be worn without attracting unwanted attention, you should not feel concerned about how you look in a social or professional setting.
Straightening Your Teeth Can Do More Than Just Improve Your Smile
Orthodontic treatment can certainly improve your smile, but that does not mean this is just a cosmetic dental procedure. Fixing problems with poor smile alignment means fixing potential issues with your bite alignment. By doing so, you can protect yourself against poor jaw movement that results in TMJ disorder. Fixing your smile alignment can also help you by straightening overlapping teeth that are more difficult to clean thoroughly. This change can make preventing oral health problems easier, as you can more effectively practice good dental hygiene!
Discuss Treatment With Clear Aligners With Your Bellaire, TX Dental Office!
At our Bellaire, TX dental office, we are ready to help patients who have concerns about the alignment of their teeth. Through corrective work with clear aligners, we can help you positively change your smile without requiring you to wear fixed, conspicuous appliances. To find out more, please contact Contemporary Dental And Orthodontics at 713-668-9119.