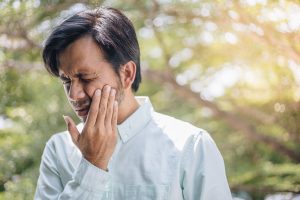 When your tooth begins to hurt, it can be difficult not to feel concerned. The discomfort can be a frequent distraction, and it can make biting, chewing, and speaking difficult. If your toothache is connected to an infection, the problem can lead to the loss of your tooth if it is not treated properly! At our Bellaire, TX dentist's office, patients concerned by dental pain can reach out to schedule the appropriate restorative dental treatment. After treatment, you can enjoy freedom from pain as well as protection against further harm or troubles with infection. If the discomfort is becoming difficult for you to ignore, we do offer patients access to emergency dental care.
Toothaches Can Be Symptoms Of Potentially Serious Problems
If your tooth is aching, you might have internal problems that need to be addressed. Infections damage the living tissues within a tooth, and they can lead to the spread of bacteria to other parts of the body if they are not addressed in time. Problems with infections can occur because of an injury, or because of a cavity that was not treated in time. There is a limited amount of time to treat the tooth before it reaches a point where it cannot be saved. Because of this, you should treat matters causing pain and sensitivity as reasons to see your dentist as soon as you can!
Arranging The Appropriate Restorative Treatment
If your tooth is infected, your dentist will have to remove damaged tissues and clear out all of the bacteria multiplying within its pulp. This is accomplished through root canal treatment. Root canals often take place as part of cavity treatment, but they are also used to treat seriously injured teeth. Once the work is completed, the tooth will be sealed to keep it safe, and you will receive a custom dental crown. Our practice is able to shorten treatment times in these situations, as we use CEREC technology to produce same-day dental crowns.
Hard To Manage Your Pain Level? We Offer Emergency Appointments!
If you are at a point where your pain is too severe to ignore, or if you worry that the tooth is at serious risk for being lost, our practice does offer appointments in emergency situations. These appointments help those who experience injuries or serious pain address problems before they worsen and create new complications. They also ensure that you have relief when discomfort becomes difficult to manage even with aspirin or other over the counter pain relievers.
Your Bellaire, TX Dentist's Office Is Prepared To Help You With Your Toothache
At our Bellaire, TX dentist's office, patients who experience problems with toothaches can reach out to us to have work done to restore their oral health. To find out more about our services, please call Contemporary Dental And Orthodontics at 713-668-9119.