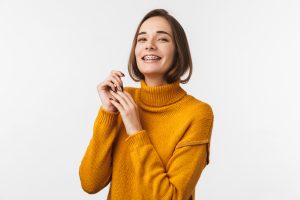 If you are tired of feeling self-conscious about your smile, there are several procedures that may be able to help you. Cosmetic dentistry makes it possible to brighten teeth, hide damage, and even address naturally occurring issues that affect the shapes and sizes of certain teeth. If your problems stem from poor alignment, there are also multiple orthodontic treatments that you can choose from in order to change the way you look. At our Bellaire, TX dentist's office, we are able to discuss cosmetic work, but we can also offer orthodontic treatment. There are multiple appliances we can recommend to help you straighten undesirable gaps and overlaps.
Uneven, Poorly Spaced Teeth Can Hurt Your Smile Confidence
If your smile is uneven or asymmetrical, it could be due to the way your teeth are spaced or aligned. Overlaps, gaps, and other issues with alignment can be hard to ignore, and they can be a persistent problem for an otherwise healthy smile. Fortunately, there are multiple procedures that can be used to fix these issues. We offer traditional metal braces, as well as alternative approaches that are more discreet.
In some cases, we may be able to hide minor flaws with porcelain veneers. This is not something that can be approved in every situation, but your dentist can examine your current issues to see if it might be an acceptable approach for you.
What Kind Of Orthodontic Appliance Should You Use To Straighten Your Teeth?
While metal braces have proven effective for many people, they may not be the appliance that you choose. If you want to make your braces harder to see, consider having lingual braces instead! Lingual braces are on the backs of teeth, not their fronts, making them difficult to notice. You can also explore the benefits of treatment with clear aligners. Clear aligners are removable, and they are difficult to see when they are in place.
Orthodontic Work Can Do More Than Just Improve Your Smile
When you think about orthodontic work, you may focus on the ways in which your smile can change. You should know that there is more to this work than just affecting the quality of your appearance! By straightening your teeth, you can improve your bite function. This can have a beneficial effect on your daily life because it can reduce wear and tear on certain teeth, and because it can make you less vulnerable to TMJ disorder.
Contemporary Dental And Orthodontics Can Help You Improve Your Smile!
At Contemporary Dental And Orthodontics in Bellaire, TX, patients who struggle with feelings of self-doubt because of their smile alignment can learn about the benefits of orthodontic work! To find out more about the different appliances we can use, or to learn more about the are provided for individuals with poor alignment, call our Bellaire, TX dental office at 713-668-9119.