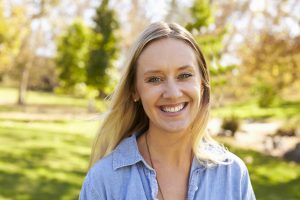 If you need to have restorative dental work done, you probably want that work to be completed in the shortest amount of time possible. After all, the longer the process takes, the more time you spend with a vulnerable tooth! Because so many practices rely on third party labs to produce permanent restorations, patients who require dental crowns are often left to depend on a temporary crown while waiting for their custom crown to be ready. At our Bellaire, TX dental office, we can actually shorten your treatment time thanks to technology that allows us to make permanent crowns on-site! These crowns, made with CEREC technology, can be carefully designed to fit your tooth, and can also mimic the appearance of your enamel!
What Can You Expect From Our In-House Dental Crowns?
Our in-house dental crowns are designed to match the appearance of your neighboring teeth, and to provide a custom fit over your vulnerable tooth. We can make sure that your enamel is tinted to fit in with your smile, so it does not stand out and draw attention to itself as a restoration. In addition to letting us produce crowns made from attractive ceramic material, we can use CEREC technology to make sure a crown is the proper fit so that it remains in place, and stays comfortable.
Using Digital Technology To Design Your Crown
By using digital technology to measure your tooth, and create your custom crown, we can make sure that you have the right restoration for your needs. At our practice, we can use modern tools to log the measurements of your tooth, and produce a restoration around that information. Because we have the tools to quickly gather accurate information, we can use the data that we collect to produce the right dental crown for your particular needs!
We Can Help You Avoid Future Smile Troubles Through Regular Dental Checkups
Even though CEREC technology makes it possible to craft quality dental crowns in less time, you should still make your goal to avoid needing a crown. Dental fillings allow you to retain more of your natural tooth structure, but they are not appropriate for larger cavities. If you attend regular dental checkups, you can make it less likely that a cavity will have the opportunity to reach a size where a filling is not capable of providing enough support. Because your checkups include thorough teeth cleanings, and opportunities to discuss changes to your oral hygiene routine, they also help you avoid issues with cavities entirely!
Talk To Contemporary Dental And Orthodontics About Receiving A Custom Dental Crown
At Contemporary Dental And Orthodontics, patients who are in need of dental work involving crowns can appreciate how CEREC technology lets us complete their work in less time! We can offer lifelike crowns that are ready in as little as one appointment, so you can be done with your treatment with minimal delay. For more information about the services that we provide, you can reach our Bellaire, TX dental office at 713-668-9119.