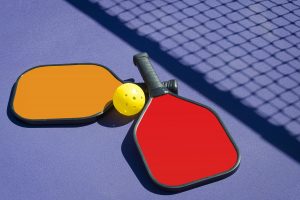 On Wednesday, May 29, you can head out to Bellaire's special Pickleball End Of Spring Bash! This event, hosted at the Bellaire Recreation Center, will welcome people for drinks, snacks, and fun activities – including FREE games of Pickleball. If you want to learn more about this fun game, or if you are looking for more players to meet, this is a great opportunity for you, and a nice way to enjoy the end of the spring season! Physical activity can provide important benefits for your well-being. What you should know is that protecting your smile is also important if you want to stay in good health. In addition to providing care for your own smile, make sure you visit your Bellaire, TX dentist's office for routine dental checkups!
When:
The Pickleball End Of Spring Bash is taking place on Wednesday, May 29! This event will take place from 11 am until 2 pm.
Where:
This event is being hosted at the Bellaire Recreation Center, which is located at 7008 Fifth Street, Bellaire, TX.
Cost:
People can check this event out and enjoy games of Pickleball, and other fun activities, for FREE!
Activities Include:
You can join a Pickleball game, meet other fans of the game, or just check out the fun as people celebrate the end of the spring season!
For More Information:
For more information about this event, click here.
Schedule Your Next Dental Appointment At Bellaire Dental And Orthodontics
Bellaire Dental And Orthodontics is prepared to help you take on your oral health needs, and provide you and your family great support in a friendly environment. We take pride in making a wide range of services available to people in and around Bellaire, TX who are interested in keeping their smiles in top form. If you would like to schedule a consultation, you can reach Contemporary Dental in Bellaire, TX, today at 713-668-9119.