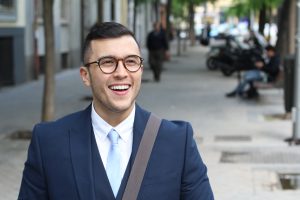 A confidence boost before an important job interview, or a class reunion, can be greatly appreciated. If you worry that cosmetic dental work might take too much time to complete, you may forgo a chance to have improvements made before a significant event. What you should know is that your Bellaire, TX dentist's office can help you make positive changes in less time than you might expect. Patients also have exciting results to show off in just one or two appointments! With the right care, those improvements can be sustained, so that you still have confidence in your appearance during that next big moment.
You Can Make Your Smile Dramatically Whiter In Less Time Than You Might Think
Because you have the option to go in and have your dentist perform your whitening treatment, it is possible to have a brighter smile in just a single appointment. During your visit, a special light can encourage the whitening agents used on your teeth to have a more prompt effect. By the end of your appointment, your enamel can be brighter by many shades.
If an at-home whitening treatment is a better fit for you, your dentist can send you home with a professional whitening kit. This can allow you to treat your teeth on your own time, and see results that line up with an in-office appointment.
How Long Can It Take To Make Changes With Porcelain Veneers?
You can improve your smile in big ways, in a relatively small amount of time, thanks to porcelain veneers. The process of measuring and preparing your teeth for treatment, having your veneers made, and having them placed, can be accomplished in all of two appointments. These custom cosmetic shells are made to last, so you can feel confident in the way you look for many years after you receive them.
Keeping Up With Smile Improvements After Cosmetic Work
Cosmetic dental work can be convenient enough to fit in before an important event. With the right approach to care, you can sustain improvements, so you can feel confident in your appearance at the big moment in your life that comes after it. Regular dental appointments can be important, as your dentist can closely watch for any issues with veneers, or any other dental work you have received. You can keep your teeth bright by avoiding dark and color-rich liquids like coffee, red wine, and soda, as well as by brushing thoroughly and frequently.
You Can See Great Cosmetic Improvements Thanks To Contemporary Dental And Orthodontics
At Contemporary Dental And Orthodontics, people who want to make big changes to their appearance can be excited by the convenience and effectiveness of cosmetic dental work! We are ready to meet with patients in and around Bellaire, TX to discuss treatment. For more information, schedule a consultation by calling Contemporary Dental in Bellaire, TX, today at 713-668-9119.