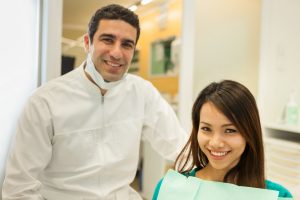 What do you gain by seeing your dentist regularly? If you think of a checkup as something to arrange when you think something is wrong with your smile, you can fail to enjoy the full benefits that come with routine dental exams and cleanings. These visits are meant to help you sustain a healthy smile, not just address a possible problem. In fact, you could wind up needing more involved dental work, as you can allow a problem to go untreated for a longer period of time. Unless there are special circumstances that affect your smile health, you should plan to go in for a visit every six months. 
1. Professional Cleanings And Exams Help You Avoid Dental Problems
When you regularly undergo dental cleanings and evaluations, you can lower your risk for problems like tooth infections, and gum disease. A professional cleaning can lead to the removal of tartar, hardened accumulations of plaque that can resist brushing and flossing efforts, and continually pose a threat to your smile.
2. Your Dentist Can Identify A Problem Before Symptoms Become A Problem
During your reviews with your dentist, small problems can be spotted, and the appropriate care can be arranged. Addressing a cavity in its early stages limits the amount of your enamel ultimately harmed by decay, and limits the amount of work you have to undergo.
3. You Can Receive Help With More Than You Might Expect
Would you expect your dentist to help if you keep suffering from headaches, or pains in your face and neck? When you experience issues with TMJ dysfunction, you can suffer these symptoms. Fortunately, your dentist can recognize when this problem is affecting you, and recommend a treatment to provide relief.
Schedule Your Routine Dental Exams At Contemporary Dental And Orthodontics
You can look forward to quality care when you arrange dental visits at Contemporary Dental And Orthodontics. Our practice is proud to help families in and around Bellaire, TX keep their smiles in terrific shape through routine preventive care, and we are ready to help if you have a problem that requires treatment. For more information, you can schedule a consultation by calling Contemporary Dental in Bellaire, TX, today at 713-668-9119. We are proud to welcome patients who live in Bellaire, Houston, West University/Southside Place, Southwest Houston, the Galleria area, and all surrounding areas.