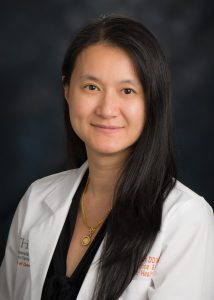 Prosthodontist/Maxillofacial Prosthodontist
Education:
DDS (Honors) | Khon Kaen University Faculty of Dentistry, Thailand, 1994
MS, Oral Biology | University of Louisville School of Dentistry, Louisville, KY, 1999
Certificate, Prosthodontics | University of Louisville School of Dentistry, 1999
Certificate, Maxillofacial Prosthetics and Oncologic Dentistry | UT M.D. Anderson Cancer Center, Houston, TX, 2000
Certificate, Advanced Education in General Dentistry | UTHealth School of Dentistry at Houston, 2012
Dr. Sudarat Kiat-amnuay holds academic appointments as a tenured professor and director of AEGD Residency Program. She is a diplomate of the American Board of Prosthodontics and the American Board of Clinical Anaplastology. She is currently a fellow of the American College of Prosthodontists, the American Academy of Maxillofacial Prosthetics, the International Congress of Oral Implantologist, International College of Dentists and the ADEA Leadership Institute.
Dr. Sudarat (as preferred to be called) joined Contemporary Dental as an extension of her UTDentists' extramural practice.  She brings her 20+ years of clinical and residency evidence-based teaching experiences.  She recently completed one of the world largest, 21-implant full mouth rehabilitation case. Her expertise is in treatment of complex prosthodontics and implant dentistry, full-mouth rehabilitation, cosmetic and restorative dentistry, smile design and makeover, veneers, digital denture and obturator (denture for resected jaw), dental oncology, prosthetic rehabilitation of gunshot wounds, rehabilitation of genetic disorder children and adults (such as Amelogenesis Imperfecta, Ectodermal Dysplasia, multiple missing teeth), etc.
The recipient of more than 50 teaching and research awards, Dr. Kiat-amnuay has published more than 60 abstracts and 30 peer-reviewed journal articles, and contributed to multiple book chapters. She has presented/co-presented over 200 presentations locally, nationally and internationally.  She is a principal and co-principal investigator of more than 20 funded projects, many of them are from prestigious federal funding agency such as NIH, HRSA, etc.  She is a reviewer/editorial board for several journals including Nature Publishing Group and is currently a member of 20 dental and medical professional organizations.
Dr. Sudarat's philosophy came from the legacy of her beloved uncle, formerly Thailand's Surgeon General and Thailand's Interim Minister of Public Health chosen by our beloved King Rama IV; the world's longest-reigning head of state for 70+ years:
"Once you become a doctor, underline and bold that word and remind yourself to be kind, put patient's needs ahead of yours as if they were your own family members, strive for excellence to bring about the best treatment outcomes, and never give up at the first try but always plan to do things right the first time."
Outside of her practice and teaching, she enjoys being a foodies, cooking new recipes, hiking, white water rafting, zip lining, walking, exercising (pilates reformer), and traveling with her family.