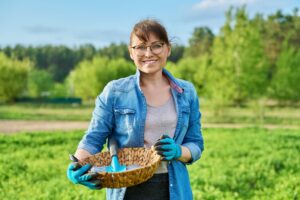 Sometimes, the removal of one of your natural teeth is necessary to save the remaining areas and structures of your mouth. If you have recently received a diagnosis requiring an extraction, it can be helpful to learn about your options before you have your procedure, so that you can plan ahead for your prosthodontic replacement. For those who currently have a gap that they intend to correct, there are methods of protecting and even restoring the bone tissue of your jaw due to resorption.
A dental implant is an exciting choice for your smile, and this means of repair can help you after the loss of one or more of your natural teeth. At Contemporary Dental in Bellaire, TX, we proudly offer this form of prosthodontic treatment, in order to give you a lasting replacement that can handle the strain of chewing and speaking. Speak with your qualified oral health professional about your particular needs, and see if you qualify for a biocompatible dental implant!
How Dental Implants Renew Your Smile
When you lose one or more of your teeth, you can experience a reduction in your bite function as a result. In order to repair the location, prosthodontic care aims to replace your natural material with a prosthetic solution, giving you back that area of your smile. There are a few different methods that dentists use to accomplish this, and one of these is a durable dental implant.
The implant placement process relies upon a threaded titanium post, which when installed in the bone of your jaw, forms the foundation for your new prosthetic tooth. After a short period of recovery, your body actually grows snugly to the threads in the metal, creating a strinkingly strong connection.
Implants Are Adaptable, To Give You Ongoing Support
Another significant advantage of biocompatible dental implants is their ability to serve as a multi-tooth solution. Since the support for this form of repair comes from a post within the jaw, different attachments are available to aid in your specific needs. Your provider can change out your existing prosthesis with one that can incorporate another tooth, or this can serve as part of a whole mouth renewal!
For this reason and more, dental implants can be a helpful option for those with illness or age-related instances of tooth loss. If you are anticipating the need for further prosthetic replacement, see if you qualify for a biocompatible choice!
Discover How Implants Can Help You In Bellaire, TX
If you are looking to correct the loss of one or more of your natural teeth, speak with a knowledgeable and caring provider about dental implants. Call Contemporary Dental & Orthodontics in Bellaire, TX at (713)668-9119 to learn more or to schedule your consultation!