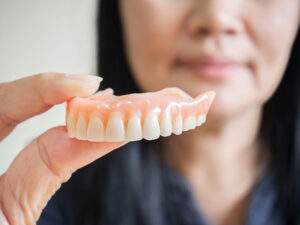 When you have lost most of your teeth, or all of them, you need a full set of dentures to return optimal health, function, and beauty to your smile. But how do we support these dentures once we craft them? In today's blog, your Bellaire, TX, dentist talks about removable and implant-secured dentures.
The Dangers of Total Tooth Loss
When you lose most of your teeth, this could cause serious trouble for your daily life. For example, you could find yourself unable to eat a variety of foods, denying yourself essential nutrients. Speaking clearly could be a problem too. Since the body deprives your jawbone of doses of calcium and phosphate to the jaw around missing roots, this could mean a breakdown linked to an older appearance. To restore function, health, and beauty to your smile, you need a set of complete dentures that look great and with some options, stimulate the growth of jawbone structure.
Creating Your Custom Prosthetics
To begin, we will take a clear and detailed picture of your smile with digital imaging. We can plan treatment and use these images to aid in the fabrication process. We may also need to extract the few remaining teeth to make room for the prosthetic. The denture will contain a full row of new teeth set in an acrylic base. The base will mimic the appearance of gum tissues, and the teeth will be shaded to look natural. Your new teeth will be able to absorb daily bite forces too!
Removable
Some options are removable, which means suction or adhesives will keep them in place. These need to be taken out for cleaning and soaking occasionally. They will also need to be replaced every five to ten years as the shape of the jaw ridge changes.
Implant Supported
We could also support them with dental implants. We insert multiple posts into the jaw, where they're accepted as new roots. This stimulates the growth of the jaw and prevents changes to ridge shape, so once we attach your dentures they can stay in place for decades. In addition, they will never slip and don't need to be removed for cleaning or soaking.
If you have any questions about your options for addressing major tooth loss, then contact our team today to learn more. We want to help you enjoy a full and stunning smile, and you can use your remaining 2022 dental insurance benefits before they expire at the end of the month.
Talk To Your Bellaire, TX Dentist About Full Prosthetics
We would love to help you maintain your best possible smile with a complete set of prosthetics. If you have questions about replacing missing teeth, then please reach out to Contemporary Dental And Orthodontics at 713-668-9119.