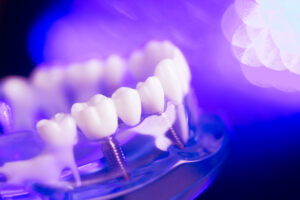 When you have missing teeth, we have an advanced and lifelike replacement option to renew smile beauty and function. With dental implants, your results not only look natural, but last for decades to come too! In today's blog, your Bellaire, TX, dentist talks about the benefits of dental implants.
The Changes to Your Jaw Following Tooth Loss
When you lose teeth, this could make major changes to your jaw and facial structure. The body will stop sending doses of calcium and phosphate to the jaw around the missing root. Without these nutrients, the bone tissue loses mass and density, which causes it to break down and cause an aged appearance and additional missing teeth. But with the placement of dental implants, we can prevent the loss of mass and density in the jaw, and also safeguard the stability of your smile too!
Inserting Your New Roots
We'll begin by examining your smile carefully to assess the cause and extent of the tooth loss. We also want to look for underlying oral health issues that may need attention, such as gum disease, as managing them properly can help your new teeth last longer, and prevent further tooth loss. The biocompatible titanium post will be inserted unto the jawbone, guided into the right position and angle to support a new tooth and stimulate the growth of jawbone tissue, preserving your facial structure. Once the placement area heals, we will attach an abutment that extends above the gum line. Now, we're ready to address the visible portion of your new root.
The Visible Portion
For an individual missing tooth, we could attach a crown to the abutment. A dental crown is made from durable and lifelike materials, such as ceramic, which we can shade to blend with your smile seamlessly. This will provide a dependable chewing surface, and a balanced bite too. If you have lost multiple teeth, or all of them, we could use multiple posts and abutments to secure a bridge, or even a full or partial set of dentures. These prosthetics can last for decades, and safeguard your smile too. With dental implants, you have the potential to ensure a lifetime of smiles!
If you have any questions about how we address missing teeth and preserve your smile, then contact our team today to learn more. We want to help you smile with confidence and enjoy your favorite meals again. If you have any dental benefits left, we can use these before they expire.
Talk To Your Bellaire, TX Dentist About Implant Dentistry
Our team wants to help you enjoy a complete smile again with advanced replacement options. If you have questions about addressing your missing teeth, then please reach out to Contemporary Dental And Orthodontics at 713-668-9119.