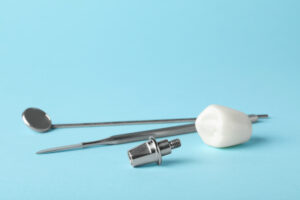 When you need more than a filling to improve your smile and treat restorative issues, we may recommend a dental crown. We have a full one, as well as partial crowns commonly referred to as inlays and onlays. In today's blog, your Bellaire, TX, dentist talks about how we can restore smiles.
Dental Crowns
A dental crown is a restoration that enables our team to address a variety of oral health issues, returning function, health, and beauty to the smile cone again. Each one is custom-made for your smile to ensure a balanced bite and a comfortable fit, and can protect your smile from major complications. A full dental crown, the one that covers the entire visible portion of a tooth, can be used to address a number of problems. For example, we can place one to treat severe cavities or infections, even completing root canal procedure. Placement could also be used to treat cracks, chips, or breakage, and to lengthen teeth worn down by grinding or clenching. Our team could reshape malformed teeth too, and even address lost ones. For example, we can secure a dental bridge in place or even restore a single tooth dental implant.
Inlays and Onlays
What about our partial crowns? These address concerns too severe for fillings or dental bonding, but not quite serious enough to require a full restoration. Instead, w can craft custom inlays and onlays. The inlays fit in between the cusps on top of the teeth, while the onlays fit over the cusps. As with the full, these are custom-made from lifelike materials to ensure a proper fit and quality repair.
CEREC Technology
At one time, receiving a full or partial one meant you needed two to three office visits. But with the CEREC system, we can employ CAD/CAM technology to plan, craft, and place a complete restoration in only one visit. To begin, our team numb the tooth and gently remove outer structure. With digital imaging, we gather pictures from multiple angles and combining them to create a 3D computer impression. This allows us to design a restoration with precision and accuracy, and then upload the information into an onsite milling machine, which creates the finished product from a block of ceramic. We then check the fit and place the finished product with a powerful bonding agent, so you have a lifelike respiration ready to last for decades to come.
If you have any questions, then give us a call today.
Talk To Your Bellaire, TX Dentist About Our Restorative Treatments
Our team is ready to help smile with confidence once again. If you have questions about treating a damaged or decayed tooth, then please reach out to Contemporary Dental And Orthodontics at 713-668-9119.