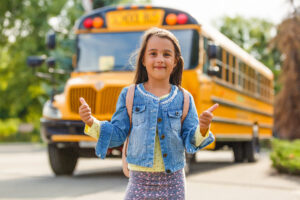 Pretty soon, your children will be heading back to school. Which means right now you're busy with picking up their supplies and new clothes. But you shouldn't forget about their smiles! To start the first day with a bright and healthy smile, you should schedule a checkup and cleaning with your Bellaire, TX, dentist.
Our Back-To-School Visits
We want our kids to start a new school looking their best, and prepared for another year. A visit now means we can not only provide a checkup and cleaning, but we could potentially treat any issues we discover before they start classes. For example, treating a dental cavity only takes one visit with our lifelike composite resin dental fillings. They can undergo these visits without falling behind in classes or missing out on extracurricular activities.
Checkup and Cleaning Appointments
The checkup involves our team taking a close look at the smile with advanced digital imaging systems. We can identify issues like cavities, infections, gingivitis, and even problems with the loss of baby teeth and the eruption of permanent ones. We then create a treatment plan to correct these concerns, helping your kids start school with stronger and brighter smiles. We could also clean the teeth, a process that involves removing all plaque and tartar buildup from the smile. The cleaning helps fight bad breath and teeth stains, and lower the risk of cavities and gingivitis too. You and your family always benefit from undergoing these preventive visits every six months!
Potential Preventive Treatments
Our team could also provide unique preventive treatments to help safeguard little smiles and lower the risk of cavities. For example, we could apply a fluoride gel to the teeth during each checkup. The gel then strengthens the outer enamel to make cavities less likely in the coming months. Many children have trouble reaching the rear teeth when they brush and floss, leaving the molars more vulnerable to the onset of cavities. But with dental sealants, we can place a plastic coating on these teeth that prevents food particles from becoming stuck between the teeth or on them. They can stay in place for up to ten years, and wear away gradually, clinging to the most burnable portions of the teeth the longest.
If you have any questions about how we treat little smiles, or about the benefits of preventive dentistry, then contact our team today to learn more. Let's start a new semester with our best smiles!
Talk To Your Bellaire, TX Dentist About Children's Dentistry
We would like to make sure your kids start a new school year with a healthy, beautiful smile. If you have questions about our approach to children's dentistry and family treatment, please reach out to Contemporary Dental And Orthodontics at 713-668-9119.