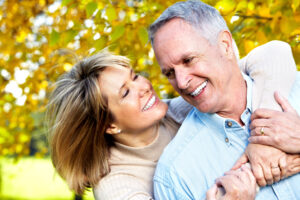 By committing to treatment that restores your incomplete smile, you take on more than just a cosmetic problem. Replacing lost teeth can help you improve your bite function and regain the ability to enjoy a wider variety of foods. This work can also help you avoid new oral health problems, including the loss of more teeth. At our Bellaire, TX dentist's office, we can offer exciting results from treatment when you rely on a dental implant (or multiple implants if necessary) to hold a restoration in place. You can meet with a specialist on-site to discuss the benefits of this approach and look forward to significant oral health and esthetic value from your secured prosthetic!
What Makes A Dental Prosthetic Right For Me?
You may be unsure of how your prosthetic treatment ought to be approached. The right solution can give you more than just the means to close the unsightly gap left by your absent tooth. A secure and stable restoration held with a dental implant can provide bite support, help stabilize neighboring teeth, and even support your jawbone health! Many people who have suffered tooth loss can qualify for the placement of an implant. With that said, you should know that changes in your health over time after losing teeth can interfere with your qualifications and change how your treatment needs to be approached.
How A Dental Implant Offers Lasting Stability For Your Restoration
You can meet with our on-site prosthodontic specialist to discuss implant dentistry and its benefits. The implant itself is not seen, but is used to hold a restoration in place and keep it secured to your jawbone. The support mimics the kind of stability that our roots provide our natural teeth. In addition to holding your prosthetic, it can keep your neighboring teeth in place by supporting their roots, and it can stimulate the jawbone, an action that keeps the bone from deteriorating.
Keeping Up With Your Oral Health After Completing Prosthetic Treatment
Whether you have never needed restorative dental work or have had multiple teeth restored or replaced, you should take advantage of the support offered at general dental exams. At these appointments, you receive regular updates about the state of your smile, which includes updates about any crowns, fillings, or prostheses that are present. Cleanings and reviews also help you avoid potential problems in the future.
Talk To Your Bellaire, TX Dentist About Dental Implants And Prosthetic Work
Through implant dentistry, patients who have lost teeth can enjoy better bite support as well as stability for their restorations. If you have questions about this kind of restorative treatment, or if there is anything else we can help you with, please reach out to Contemporary Dental And Orthodontics at 713-668-9119.