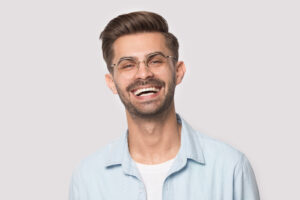 There are different reasons why people start to lose confidence in how they look when they smile. A common issue is dental discoloration, which can leave your enamel looking dull and unsightly. While discoloration is not always linked to teeth stains—internal issues can also lead to changes in tooth color—problems with stains left by foods and drinks are often the cause of this problem. To address this, our Bellaire, TX dentist's office can provide results with a professional teeth whitening treatment. You actually have different options for treatment, as you can plan an in-office treatment, or you can take home a kit that is personalized for your use at your convenience.
Are You Ready To Do Something About Your Teeth Stains?
If you are tired of feeling embarrassed by the color of your smile, you should know that there are cosmetic dental treatment options available to you that can help. Though your options for improving your enamel color do you include treatments with products that are commercially available, you can feel let down by products that are available at your local store or pharmacy, simply because they fall short of delivering the results you want. This is because these products can lack the potency of more advanced bleaching agents available through your dentist. Our practice can provide you with a treatment kit that you can use at home, and we can also recommend in-office treatment to those who want to see results in less time.
Planning Your Professional Whitening Procedure
You can choose if you want to do something about teeth stains from the comfort of your home, or if you want to come in to see us for a single in-office treatment. An office procedure can offer results in a short time, which means that you can see the results you want before an important upcoming event. This visit can provide these results in a short time thanks to the special light treatment we use to activate the effects of your bleaching gel. For those who like the convenience of treatment at home, we can provide a customized kit that offers you everything that you will require to see positive results from your own efforts. These kits include bleaching gels as well as trays used to make the application of these gels easier.
What Else Can You Do To Improve Your Smile?
There are other treatment options available to patients who want to see real changes to their appearance. With porcelain veneers, we can hide intrinsic discoloration, which means problems within your tooth structure will no longer make you embarrassed by the way you look. These thin, durable restorations are also capable of hiding problems with tooth shape, size, and alignment, leading to even more cosmetic benefits.
Talk To Your Bellaire, TX Dentist About Teeth Whitening Treatment
Through the appropriate teeth whitening treatment, our practice can help you show off a brighter, more confident smile! If you would like to find out more, please reach out to Contemporary Dental And Orthodontics at 713-668-9119.