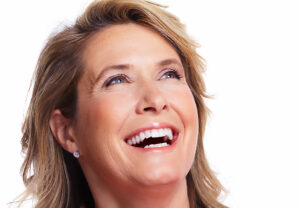 You may have a hard time thinking of another oral health problem that is as hard to ignore, or as hard to hide, as tooth loss. Any missing tooth can make trouble for your bite function, while a missing front tooth can be an especially conspicuous issue. When you need to do something about an incomplete smile, you can find that our Bellaire, TX dentist's office is ready to help you. Through an appointment with our on-site prosthodontic specialist, you can learn about the treatment options available to you, and what the placement of a permanent restoration can do for you. With the support of a dental implant, your replacement tooth can provide reliable bite support as well as protection for neighboring teeth, all while it gives you back confidence in the way you look.
Reasons To Prioritize Prosthetic Dental Work
Through the appropriate dental work, we can help you resolve problems with your smile that have arisen over time. Tooth loss, a serious concern for both your appearance and health, is certainly something that we are prepared to help you take on. By providing you with your treatment options, we can help you understand what your procedure can do to improve both the way you look and your dental health. Those health benefits include positive changes in your bite function that have interfered with your quality of life and physical comfort.
We Can Provide A Permanently Held Restoration
Through the placement of a permanent prosthetic restoration, we can help you enjoy real functional support from your dental work. A dental implant can provide important stability for a replacement tooth. The implant acts the way that roots do to keep teeth securely held to your jawbone. The placement of the implant is done carefully to make sure that it provides the right support for your jaw and for your prosthetic. Its presence helps to stabilize neighboring teeth, too, further improving your dental health. In time, the stimulation created when you bite and chew will actually help you preserve the health and density of the bone.
Discussing Your Long-Term Smile Health After Prosthetic Treatment
Through treatment to fully restore your smile, we can help you change your appearance, reduce your risk for functional issues that lead to TMJ disorder, and generally improve your quality of life. Regular dental checkups will allow us to look at your prosthetic work as well as your natural teeth to make sure that there are no issues that need to be addressed. If there are, we can take them on before there are complications that need to be resolved.
Talk To Your Bellaire, TX Dentist About Restoring Your Incomplete Smile
Through treatment for your incomplete smile, we can help you regain confidence in the way you look, your ability to bite and chew, and your overall oral health. If you would like to find out more about how we can support you, please reach out to Contemporary Dental And Orthodontics at 713-668-9119.