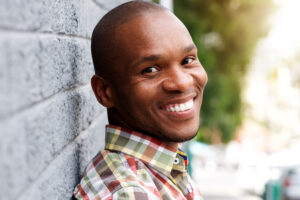 While many people are excited by the idea of fighting teeth stains, they may hesitate to look into treatment simply because they worry it will be hard to fit into their schedule. If you feel that you have limited time for cosmetic treatment, you can find that services that whiten smiles can be surprisingly convenient. Our Bellaire, TX dentist's office provides both an in-office treatment and a customized whitening kit that you can take home and use on you schedule. For those who want to explore other services, there are additional cosmetic services that we provide, which can take on concerns like discoloration, dental damage, problems with smile alignment, and more.
Are You Ready To Showcase A Brighter And More Attractive Smile?
Simply put, the accumulation of teeth stains makes it harder for a person to smile and speak with full confidence. As this problem worsens, it can be more difficult for you to ignore, and it can feel harder to properly address. Relying on over the counter products to make the changes you want can have limited benefits. While they can help take care of stains that are sitting on the surface of your enamel, they can prove to be less effective at treating dental discoloration that has settled over a longer period of time. The good news is that this is not your only option. You can choose between a teeth whitening treatment that you take home, and one that you arrange at our office.
You Can Choose To Whiten Your Teeth At Home, Or Arrange An In-Office Treatment
Our in-office treatment is capable of making your smile whiter in just one appointment, so it only requires a limited time commitment. During your visit, we will use a special light to activate the effects of your bleaching agents and produce better results in a shorter time. You can walk away from your appointment with teeth that are many shades brighter! If you prefer, you can take home a customized treatment prepared at our practice. This can deliver real results while letting you enjoy care at your convenience.
Planning Other Cosmetic Services
There are other cosmetic issues that our practice is prepared to help you take on in order to drastically improve your appearance and confidence. With porcelain veneers, we can hide internal blemishes, cover up wear and tear on teeth, and even improve on the shape and size of any teeth that appear to be out of place. We also provide the option of straightening your teeth with discreet clear aligners in order to make your smile more symmetrical.
Talk To Your Bellaire, TX Dentist About Teeth Whitening Treatment
With your different options for teeth whitening treatment, you can more easily fit care into your schedule and start showing off dramatic cosmetic improvements! If you would like to find out more, please contact Contemporary Dental And Orthodontics at 713-668-9119.