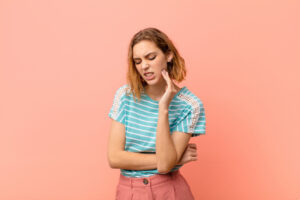 There are some unfortunate situations where you need to promptly see your dentist about an oral health issue. Do you have someone you can turn to during a dental emergency? Our patients at our Bellaire, TX dentist's office can rely on us to provide help at times when they need to see someone on short notice. At your appointment, we can look to completely resolve the problem that you face while providing the most conservative solution that can effectively help. In the event that your problem is serious enough to result in tooth loss, we have an on-site prosthodontist who is able to help our patients regain their complete smiles after losing teeth.
Some Problems With Your Smile Call For A Prompt Treatment
In the event that you have a serious problem with a physical injury or tooth pain, you should know that you can reach out to your dentist for help. Our emergency dental services make it possible for patients to arrange the help they need on short notice. By doing so, you can put an end to trouble with a worsening cavity, or you can have a damaged tooth effectively restored. The approach we take to restoring your oral health will be determined after you arrive, and after we have the opportunity to evaluate you.
Planning Your Emergency Dental Work
Once you are in the dentist's chair, we will determine what we can do to help you resolve your dental emergency. Different services can be appropriate. If you have a physically injured tooth, we can determine if cosmetic dental work is appropriate. If it is, we can address the problem with only minimal changes to your tooth structure. If we need to, we can also restore your smile by capping the injured tooth with a dental crown. Crowns provide more durability and bite support while they also restore the appearance of teeth.
What If My Dental Emergency Leads To Tooth Loss?
Any time we need to provide restorative services for a patient, our goal will be to preserve their full smile and prevent the need for prosthetic treatment. However, when it is called for, we are prepared to help. Because our office includes an on-site prosthodontist, you will be able to move forward with treatment without the need to seek the help of a specialist in another office. This means you can start treatment sooner, and you can stay in contact with a trusted location while you do!
Your Bellaire, TX Dentist Can Help You During A Dental Emergency
There are times when patients will need to see their dentist as soon as possible for emergency dental work. In these situations, our practice is prepared to help! We can see you on short notice and work to fully resolve problems that you have with your smile and oral health. For more information, please contact Contemporary Dental And Orthodontics at 713-668-9119.