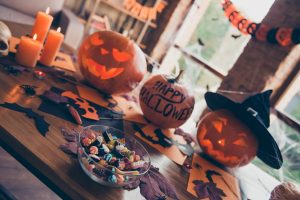 There is more to worry about than just sugar when it comes to consuming Halloween candy. Your overexposure to sweets is certainly a cause for concern, but you need to be particularly wary of certain types of treats. One concern is that a sticky candy will be harder to remove from your enamel and make problems with decay more likely. Another concern is that one errant bite into a hard candy can leave you with a cracked tooth! If this happens, know that our Bellaire, TX dentist's office is here to help. We can evaluate you to determine if the problem is serious enough to require restorative dental work, or if we can proceed with a cosmetic dental treatment.
Halloween Candy Can Play Harmful Tricks On Our Teeth
Generally speaking, you should be cautious about how much you indulge in Halloween candy. Even if you do not have kids going out trick-or-treating and coming home with bags of goodies, you can find that people need little encouragement to put out seasonally friendly bowls of treats in at the office, and your grocery store shelves can be packed with tempting goodies. If you are not careful, you can wind up with more than just a cavity. You can also do harm to your tooth structure if you bite into a harder candy that cracks or chips your enamel. Our office is available to help you with treatment, and can even bring you in for an emergency dental procedure.
Arranging Restorative Dental Work With A Crown
If an injury to your tooth affects your oral health or robs you of the ability to apply the appropriate pressure when you bite down, we can place a custom dental crown for support. With your crown in place, you can find it easier to bite and chew, and you will not have to worry about your appearance. We can actually design, produce, and place a custom restoration for you in as little as one appointment, which can reduce the time you have to wait to have your smile completely restored.
Treating Superficial Damage Through Cosmetic Dentistry
If damage proves to be superficial, meaning your oral health is not affected, we can discuss more conservative cosmetic services to restore your smile. A porcelain veneer that covers the front surface of your tooth can hide a chip or crack, which can lead to meaningful improvements to your appearance with only minimal changes to your enamel.
Talk To Your Bellaire, TX Dentist About Restoring Your Unhealthy Tooth
There is a risk of dental damage when you consume hard candies, but if you do experience damage to your enamel, know that our Bellaire, TX dentist's office is here to help! If you have questions or want to discuss care at our practice, please contact Contemporary Dental And Orthodontics at 713-668-9119.