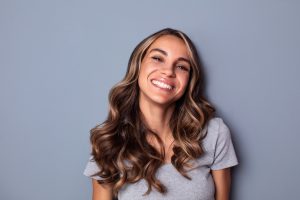 With the right cosmetic services, our Bellaire, TX dentist's office can help you take on problems with your smile that make you unhappy with the way you look. The concerns that people express can vary. For some, issues with dental discoloration lead to a drop in confidence. Others can grow unhappy with the way they look because of worsening wear and tear, or because of damage to their enamel. As little as one procedure may be all that you need to make your desired changes. We should note that in addition to cosmetic treatment, we can make positive changes to the way a person looks by providing orthodontic services.
Are You Unhappy With Your Smile?
If you take the right steps to protect your teeth and gums from harm, you can feel confident in your health as well as the way you look. However, some people have issues that concern their appearance even when they keep up with beneficial habits. Physical damage, including wear and tear, can hurt the way you look.  You may also be uncomfortable with your appearance because of discoloration, which can occur due to an accumulation of stains or because of intrinsic discoloration (changes to the tooth structure). As you can learn, different cosmetic services are available that help people address the different priorities they have when it comes to making improvements to the way they look.
Planning A Cosmetic Dental Procedure
We can work with you on a cosmetic treatment that transforms your smile. With porcelain veneers, we can cover up problems with tooth shape, size, and color that make you uncomfortable with the way you appear. In just two appointments, we can place personalized restorations that hide problems with your appearance. For those who want to focus on improving the color of their smile, we can recommend either an in-office or take-home teeth whitening treatment. These services help remove stains that you can have a difficult time treating on your own.
We Can Offer Orthodontic Treatment To Patients Bothered By Misaligned Teeth
Orthodontic work provides more than just cosmetic improvements, but it can be an exciting solution to those embarrassed by poorly aligned teeth. We do provide more appearance-friendly options, such as lingual braces and clear aligners, to make this procedure more discreet. Because our office has a specialist on site who does orthodontic work, we can make starting your adjustment more convenient!
Talk To Your Bellaire, TX Dentist About Improving Your Smile
Through the right cosmetic service, our practice can help you take on problems with your appearance that make you self-conscious. Depending on the changes you would like to make, we can recommend different services that can deliver exciting benefits! If you would like to find out more, please contact Contemporary Dental And Orthodontics at 713-668-9119.