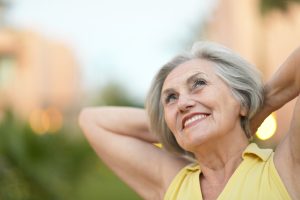 Prosthetic dentistry takes on problems with tooth loss that cause more than just concerns about your smile. After all, the problem itself is more than just a cosmetic issue. Even one gap from one missing tooth is enough to seriously compromise your ability to bite and chew, and it can leave you vulnerable to problems as teeth at either side of that absence start to become loose. If you bring the problem to the attention of your Bellaire, TX dentist, you can find that the right procedure will give you more than just cosmetic coverage. Treatment with an implant-held restoration can actually support your ability to bite and chew, and it can have long-term benefits to protect you against further losses.
A Secure Prosthetic Tooth Can Improve Your Dental Function
A secured dental prosthetic can hold up against the pressure generated by your biting and chewing. When you have that additional help, you can return to a bite that feels natural. Without this support, you can find that you are more prone to TMJ problems, and that your remaining teeth have to go through more wear and tear. Another problem with tooth loss is that it will leave you vulnerable to further losses. This is because neighboring teeth lose out on support that will hold your teeth in position. Another problem that an implant can address is jawbone deterioration, something that happens gradually after tooth loss.
Planning Treatment That Includes An Implant Placement And Restoration
We have an on-site prosthodontic specialist who can work with you on plans to fully restore your smile. Through this treatment, we can make sure that your needs are properly met, and that you have nothing to worry about when it comes to the placement experience. Detailed evaluations of your oral structures and jawbone will alert us to any issues that need treatment before you move forward with regaining your full smile.
What Else Do You Gain From Treatment With A Dental Implant?
Implant dentistry provides stability for your bite by holding a lifelike restoration in position. It also stimulates your jawbone to keep it healthy, something that is important for preventing the loss of density over time. Tooth loss causes this issue because the roots of teeth are no longer present to provide healthy stimulation when you bite and chew.
Talk To Your Bellaire, TX Dentist About Receiving A Secure Restoration!
Through the restoration of your smile with a dental implant-held appliance, you can have more than just renewed confidence in your smile. Treatment can give you a restoration that is stable enough to support your bite function and even help support neighboring teeth! If you would like to learn more about this treatment, or if you have questions about any of our services, please contact Contemporary Dental And Orthodontics at 713-668-9119.