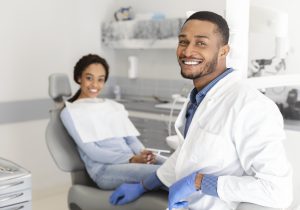 Are you currently doing enough to make sure your gums are healthy? The answer to this question may be more important than you realize. Problems with your periodontal health can grow difficult to manage when they are not treated in time. This can lead to a higher risk for tooth loss, problems with your general health, and unwelcome cosmetic changes. At our Bellaire, TX dentist's office, we can provide preventive periodontal care as part of your routine services, and we can also help you start more involved treatment when you meet with our on-site specialist.

Why You Should Be Concerned About The Health Of Your Gums
If you have a cavity, you are (hopefully) aware that it will only grow more serious until you schedule the appropriate treatment. If you let problems with poor periodontal health go unaddressed, you also face the risk of worsening problems. At first, you will experience problems with gingivitis. At this stage, your condition is reversible. However, it can be a more difficult issue to manage when your treatment does not take place in time. Problems with advanced gum disease include tooth loss, as bacteria can destroy tissues that provide stability. You can also face more risks to your general health, as links to problems like heart disease and diabetes management are being found in relation to gum disease.
Managing Periodontal Health During Routine Services
At every routine dental exam, your dentist will check for any signs of gum disease, just as you are checked for trouble with dental decay. The good news is that when gingivitis is found, we can move forward with a more advanced teeth cleaning that will remove bacteria found under your gum line. Your regular visits also help because standard teeth cleanings take care of bacteria buildup at the base of teeth before you can experience issues with gingivitis. One way to reduce your risk for advanced gum disease is to consistently arrange preventive care and stay informed about your periodontal health as well as the health of your teeth.
You Can Meet With A Specialist To Discuss Gum Disease
Our team includes specialists who can step in and care for you when you require more than general dental services. This helps you start your care faster, and it ensures that you stay in contact with an office you have grown to trust and feel comfortable with. More advanced periodontal care is provided at our office, which means we are ready to take our support for your smile further if you need to do something about advanced gum disease.
Talk To Your Bellaire, TX Dentist About Your Periodontal Health
Through the right support, we can help patients who are concerned about their periodontal health, even if they have more advanced problems. To find out more, please contact Contemporary Dental And Orthodontics at 713-668-9119.