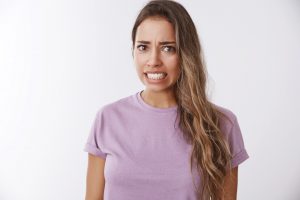 Are you putting your smile at risk when you turn in for the night? People who struggle with bruxism, or persistent teeth grinding, can wear down their enamel as they sleep. Unconsciously grinding and clenching your jaw will create friction that harms your enamel. Eventually, you can see changes as your teeth become flattened or misshapen, and you run the risk of developing alarming chips and cracks. Our Bellaire, TX dentist's office is here to help patients who need relief from this ongoing problem. Through the use of oral appliance therapy, we can keep your smile safe, and we can keep you safe form problems with pain and stiffness that can grow worse over time.
Teeth Grinding Can Have Serious Consequences
How worried should you be if you have issues with bruxism? Because you are not able to stop yourself from grinding and clenching your teeth throughout the night, this condition can leave you vulnerable to serious harm. The friction you create can wear down your smile, changing it in unwelcome ways. As you continue to put pressure on teeth, it can cause damage that negatively affects your oral health. That can make restorative dental work necessary to both preserve your smile and resolve dental problems.
Addressing Bruxism And TMJ Disorder With A Custom Appliance
A custom oral appliance is capable of keeping your smile safe while you rest. People who suffer from bruxism can use their custom guard to protect their enamel while they rest. In addition to keeping your teeth apart, your guard will reduce the stress on your jaw joints and muscles, which will put an end to worsening stress. Appliance therapy can also help with pain and limited movement linked to TMJ disorder, a condition that is often connected to bruxism.
We Can Take Care Of Teeth That Are Worn, Chipped, Or Cracked
What can you do about issues with teeth that are already chipped, worn, or cracked? The right treatment will be determined after we evaluate your teeth. For issues that affect the way you look but not your oral health, we can provide options for cosmetic dentistry. If you have problems that affect your oral health, we may need to provide dental crowns to more effectively protect your teeth.
Talk To Your Bellaire, TX Dentist About Bruxism
Are you starting to worry about the impact of bruxism on your smile and oral health? When not addressed, this is a condition that can have lasting consequences for your appearance, and it can create problems that require restorative dental work! Fortunately, our Bellaire, TX dentist's office can intervene to protect your smile! To learn more about how we can protect you against nightly jaw grinding and clenching, please contact Contemporary Dental And Orthodontics at 713-668-9119.