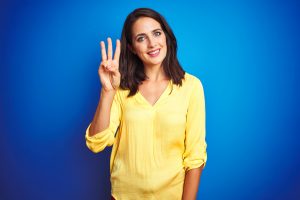 The problems patients have with dental discoloration can vary. Some will have more noticeable issues than others, which can affect how eager they are to look into cosmetic treatment. This problem can also vary in its cause, as it can stem from issues with external stains or intrinsic changes to your tooth structure. At our Bellaire, TX dentist's office, we can provide different treatment options for individuals who want to change their appearance by making their teeth whiter. After a review, we can help you identify the correct approach for you. We can also discuss any additional cosmetic improvements that interest you.
1. Fight Teeth Stains With A Whitening Procedure
Dental discoloration is frequently associated with enamel stains, which can prove difficult to avoid. Because so many foods and drinks are able to cause changes in the color of a person's smile, many people will have at least some interest in teeth whitening treatment. We provide two different approaches. One provides in-office services. With just one procedure, you can walk out of our practice with stunning improvements! You also have the option to take care of your smile with a treatment in your own home.
2. Address Intrinsic Discoloration With Porcelain Veneers
With porcelain veneers, we can take on many different cosmetic concerns, not just discoloration. With that said, this treatment approach can be an effective solution for problems with intrinsic discoloration. Veneers are carefully designed restorations that cover the front surfaces of teeth affected by cosmetic flaws. At the end of your procedure, you can show off teeth that are brighter, more symmetrical, and no longer affected by problems with tooth shape or size. Because the coverage from these restorations takes on many different issues at one time, they can help you show off significant improvements in your appearance after a single procedure.
3. Cover Discolored, Damaged, Or Misshapen Teeth With Dental Crowns
After a physical injury, your tooth may change color. To address this, and to resolve any other problems related to the harm to your enamel, we may recommend that you receive a custom dental crown. Crowns that are made to imitate healthy enamel can provide real cosmetic value. They also ensure you have no issues with biting and chewing. Problems with these movements can put increasing strain on your joints and muscles, which can lead to persistent pain over time.
Talk To Your Bellaire, TX Dentist About Dental Discoloration
We have different cosmetic treatments available to patients who have concerns about their appearance. Finding just the right solution can help you see your ideal changes while minimizing the time and level of treatment required. If you have questions about how you can improve your smile color, or about any other matter that concerns your appearance, please contact Contemporary Dental And Orthodontics at 713-668-9119.