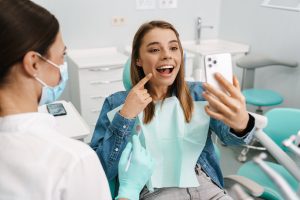 Why should you make treatment a priority if you have a cavity? When dental decay is not addressed in time, the damage to your enamel can become so serious that you need more than  just a dental filling to protect your tooth. Eventually, the harm will call for a dental crown, a larger restoration that provides full coverage above your gum line. At our Bellaire, TX dentist's office, we can actually create and place a custom dental crown in less time than other practices can require. With the technology in our office, we actually have the resources to digitally measure your tooth, make a design of your custom restoration, then produce it on-site so that we can have your oral health trouble resolved in just one visit! At another practice, the process of placing a custom dental crown can call for at least two appointments.
How The Right Dental Technology Benefits Patients At Our Practice
With the right dental technology, we can perform detailed evaluations of your smile to detect problems, provide restorations in just one visit, and make sure you feel comfortable throughout a procedure. From the time you arrive, you can enjoy amenities that help you feel comfortable in our office. The access to technology we provide helps us support patients who want to maintain healthy smiles, but we can also use our resources to help patients begin more involved work to address concerns about their dental well-being.
Providing Same-Day Dental Crowns
Same-day crowns make it possible for us to resolve dental emergencies in less time, and they help us address severe cavities without a frustrating delay in care. CEREC technology relies on digital imaging technology to capture precise measurements of teeth that need to be restored. Once we have the information that we require, we can design and produce a custom crown on-site that is made from a lifelike ceramic material. At the end of your procedure, you can feel confident that your tooth has lasting support, and you can be relieved to see that your smile still looks attractive!
We Can Help You Address Many Different Oral Health Concerns At One Location
At another location, you may be referred to a specialist to address a concern about your well-being. Our office has on-site specialists who can address different concerns like poor periodontal health, problems with malocclusion, and even concerns around significant tooth loss. Being able to continue services at our location can make further help easier to arrange, and it gives you the ability to remain at a practice where you already feel comfortable!
Talk To Your Bellaire, TX Dentist About Receiving A Same-Day Crown
Through the use of dental technology, we can make patient care easier and more convenient! To learn more about same-day crowns and other services we are able to offer, please contact Contemporary Dental And Orthodontics at 713-668-9119.