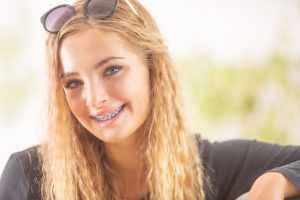 While there are several reasons why your dentist might recommend orthodontic treatment, it is hard to miss how corrective work can improve your smile. At the end of your adjustment, you can show off a straighter, more symmetrical smile, and no longer feel self-conscious because of visible gaps or overlaps between teeth. At our Bellaire, TX dentist's office, we provide our patients with different options for their treatment. You can move forward with care provided through traditional metal braces, or you can select a more discreet option. One of those options relies on lingual braces, which are placed against the backs of teeth. The other is to use a series of clear aligners to make the appropriate movements to address malocclusion.
Are You Unhappy With Your Appearance Because Of Malocclusion?
Many people will exhibit signs of poor smile alignment, or malocclusion, from an early age. With that said, it is possible for you to have problems that occur – or reoccur – in adulthood. If you are bothered by this issue, you should know that treatment is available. Doing something to address the matter will offer more than just the benefit of a more attractive appearance. Your corrective work can lead to better bite function, and you can have an easier time keeping your smile clean and healthy.
Choosing The Right Approach To Orthodontic Treatment
You do have choices when it comes to orthodontic treatment. Traditional orthodontic appliances can correct people with a wide range of flaws, and provide an important treatment option for those with more significant spacing problems. Many people who want to fix gaps and overlaps between teeth will learn that they qualify for corrective work with Invisalign or ClearCorrect, a treatment option that relies on a series of aligners that are worn throughout the day. These appliances are easy to remove, so they will not be a problem during meals, or when you wish to clean your teeth. To make treatment discreet when you need to rely on fixed bracket-and-wire braces, we can discuss the use of lingual braces.
Discussing Other Approaches To Smile Improvement
If you have relatively mild issues with malocclusion, we may be able to recommend cosmetic dental work instead of orthodontic treatment. This approach can deliver faster results, which means you can show off straight, attractive teeth in as little as one or two appointments. Both porcelain veneers and tooth bonding and contouring have the potential to help a person fix problems with gaps or overlaps that they want to fix.
Talk To Your Bellaire, TX Dentist About Orthodontic Work
Through orthodontic treatment at our Bellaire, TX dentist's office, you can show off a straighter, more attractive smile, and you can enjoy valuable oral health improvements. To find out more, please contact Contemporary Dental And Orthodontics at 713-668-9119.