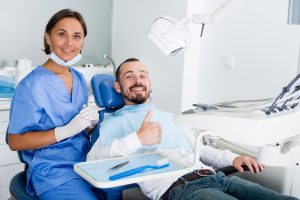 How does technology impact your experience with dental care? At our Bellaire, TX dental office, we use different types of equipment to provide different services for our patients. One important role for imaging technology lies in performing evaluations. A comprehensive review will help us spot trouble that will need to be addressed before complications occur that negatively affect your oral health and well-being. We can also use equipment to plan procedures that address potentially serious problems. By taking digital measurements, we can prepare you for a procedure, and we can also use the information we gather to provide custom appliances that preserve your dental function and restore your smile.
Our Office Uses Digital Technology To Examine Smiles And Plan Treatments
Our practice uses different forms of digital technology to thoroughly evaluate patients. The equipment give us the ability to take comprehensive measurements more comfortably, and also let us plan important and advanced procedures. When it comes to our CEREC technology, the digital review starts the process of designing and crafting a custom dental crown that can be placed in just one appointment!
Using Digital X-Rays And Cameras To Perform Evaluations
With digital x-ray technology and our intraoral cameras, we can take remarkably close looks at your teeth and gums. Intraoral cameras let us carefully evaluate you for signs of trouble even in difficult-to-study areas. With digital x-rays, we can plan more comprehensive procedures that concern your smile and oral health. Because our office provides comprehensive services, and because our staff includes specialists who can provide orthodontic, periodontal, and prosthetic services, an evaluation can be the first step in ambitious smile improvement plans that can take place at our practice!
How CEREC Technology Enables Same-Day Dental Crown Placement
Dental crowns are used to restore teeth damaged by advanced cavities, and they can also be used to address a physical injury that affects your smile. With CEREC technology, we can make sure that you have a tooth completely restored in just one appointment! First, we digitally measure the tooth in question, and we use what information we gather to design your restoration. With that design gathered, we can produce a ceramic crown that provides protection as well as cosmetic benefits!
Schedule Treatments At Our Bellaire, TX Dentist's Office!
When it comes to providing dedicated dental care, having the right technology helps us perform a number of beneficial services on-site, and with a focus on keeping you comfortable. Your Bellaire, TX dentist's office is ready to take on a wide range of smile concerns, and we can also provide dedicated preventive care to help you avoid issues that might call for treatment. To find out more about us, and about the services that we provide, contact Contemporary Dental And Orthodontics at 713-668-9119.